Renting with us
Owning a home has many advantages but as we age, homeownership can become a burden. Renting is quick and easy, and we have a range of flexible options to support your move. And, because our retirement communities come with a host of social activities, amenities, services, you'll be safe in the knowledge that you're joining a safe and secure community, on your terms.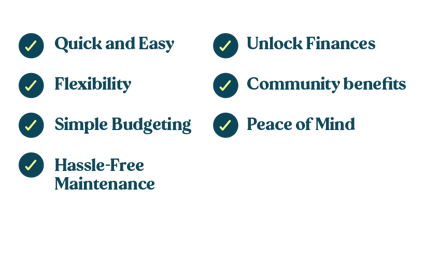 The Benefits of Renting
Renting or letting a property from Retirement Villages provides a convenient and worry-free way to become part of our amazing retirement communities. Here's why renting is an excellent choice: 
Quick and Easy: Renting involves fewer logistical complexities than buying, making it a swift and hassle-free process to move in and out of your rented home. 
Flexibility: You'll have the chance to see if it suits your lifestyle needs, and your rented home is yours for as long as you wish.  
Simple Budgeting: Your monthly payment covers service charges and maintenance, making budgeting a breeze. 
Hassle-Free Maintenance: You won't need to concern yourself with property upkeep, as any issues are promptly addressed for you. 
Unlock Finances: You may have the opportunity to utilise the equity from selling your current property to spend more time investing in the things you love.
Community benefits: Whether you rent or buy, you have access to our community events programme, services, and amenities such as restaurants, allotments, and wellness centres.  
Peace of Mind: As standard, our Assured Tenancy Agreement provides you with security and stability. 
With a range of offers on renting a retirement property across our rental portfolio, including 2 months rent-free (T&Cs apply) take a look at our rental offers.
Part buy, part rent

Also known as shared ownership, this option allows you to buy a percentage of the property and rent the rest, freeing up equity you can use elsewhere. You will pay a monthly amount and will still have to pay for associated fees but your total purchase amount will be less. This is a great option if you would like to release equity for family, a big around-the-world adventure or another big purchase. Customers should be reminded that they may well need to use funds released by a sale to meet their future day-to-day living and care costs. They should also seek independent advice, not only on whether their income will be sufficient to cover their future needs but also on the inheritance tax implications of any gifts to offspring. Contact your local sales consultant for more information.
Flexi-Rent

Try community life with our Flexi-Rent offer*, and move into a home of your choice straight away. You can quickly and simply go on to buy the property if you love it, or you can try a different type of property in the same village, or even a different community somewhere else, no strings attached.
Contact us
Exploring the benefits: Renting in retirement
Looking for answers or want to know more?
Speak to us on
01372 383950
or
Have a read through our rental Rental FAQs and get in touch if they still haven't answered your questions – one of our team members will be more than happy to help.
Back to top