Mayford Grange
Near Woking, Surrey
Neil Barlow
Village Manager
I bring over 10 years of experience managing teams in customer focused environments and contribute in helping to create a warm, secure and welcoming community for all those that choose to call Mayford Grange their home. 
I have moved to Mayford Grange as the Village Manager, after being Assistant Manager at Gradwell Park. It's an excellent opportunity for me to develop both the village and my career with the Retirement villages group. I am very excited to grow my knowledge and experience, helping to improve the lives and wellbeing of others, along with being involved further in engaging with the community. In my spare time I thoroughly enjoy daily beach walks with my wife and spending time in this wonderful part of the country.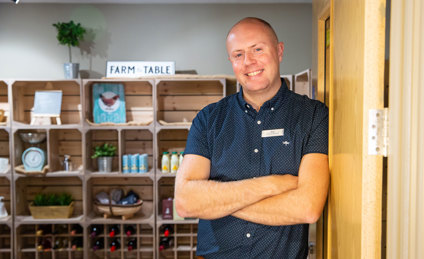 Mark Tavener
Head Chef
Having worked within kitchens for over two decades I have been fortunate to combine my passion for cooking and delivery of service within a range of hospitality venues. I joined Mayford Grange in 2017 and feel fortunate to be part of an amazing team who deliver the very best service. We work passionately to provide the very best experience for our residents and their guests by ensuring our restaurant and lounge are at the very heart of our village.
Jo Rooke
Village Administrator
In my early 20's I decided I wanted more excitement than my childhood seaside town could give me and I moved to London where I joined a prestigious Pall Mall business membership club where my enthusiasm for good customer service grew. Whilst there, I met my husband as I actually worked with his dad who introduced us! We then decided to move to Woking to set up home together and we have been in the area ever since. I joined Retirement Villages in July 2020 right in the middle of lockdown so it was a strange experience to start with but everyone was so welcoming, the staff and the residents have been a joy to get to know and I have loved being a part of the Mayford family. It's a lovely community and as our village is quite small you get to see or speak with most residents on a daily basis. I look forward to coming into work, which is not always something I have been able to say before!
Diana Cuthbert
Receptionist
I have spent my working career within the care sector and take personal satisfaction from making the difference to someone's day. I started my role as a part time receptionist at Mayford Grange in 2017. I love my role because it allows me to engage with residents and guests and no two days are the same
Darren Belton
Maintenance
Over the past twenty years I have worked within many customer focused roles ensuring I deliver the very best experience with heartfelt passion. I have gained a wealth of knowledge over the years from these roles which has allowed me to develop my skill set. I joined Mayford Grange in the summer of 2020, when the world was facing the start of the pandemic and although this was an extremely challenging time to join, I fast settled into my role as Mayford Grange has a warm and welcoming heart. It's fantastic to be part of an amazing team and village community.
Read about our facilities
Back to top