What age can you move into a retirement village?
Copy link
Often one of the main questions that we come across is 'what age can you move into a retirement village?' The simple answer is that you can move into a retirement village, when you feel ready.
But there is one smallish thing that has to be taken into account; each village at Retirement Villages has its own age-exclusive parameters. Our villages tend to have three different minimum age entries, a bit like a nightclub, ensuring that facilities complement retirees and maintaining the unique spirit of each village.  
Ages start at 55, 60 and 65. For example, Debden Grange in Newport has an over 65s policy, but there are several villages welcoming in the younger 55–year–olds, like Moat Park in Essex. However, at Retirement Villages we really do believe that we're all youngsters at heart.  
Our retirement villages are specifically designed to meet the accommodation, social and recreational needs of the over 55s, and with Retirement Villages each village aims to provide a broad spectrum of facilities and activities to cater to all ages. You can read more about individual facilities and age requirements within each village here. 
When is it time to move into a retirement community?
Many residents say that they decided to move into a retirement village after considering it for a few years first – though the overwhelming feedback is that they wished they'd moved sooner!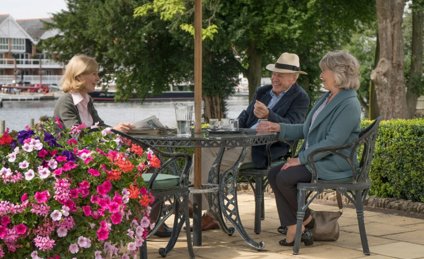 Many people still believe that old age is synonymous with moving into a care home or being lonely in your own home. But without sounding too much like an overzealous ad, it really doesn't have to be like that. Retirement Villages consistently shatters this image with the people that choose this lifestyle, being such dynamic and active individuals. We are always quick to point out that while we develop and maintain the villages, it is truly the residents who bring each one to life, making them such special places to live! 
People often wonder what the perfect age is to move into a retirement village. Generally, many people move in when they are 70 or older; for your information, our average buyer is currently aged between 78 and 84.  
There is no set age for being healthy and enjoying activities, whether a person is 65 or 85, retirement living does not discriminate. Every person that buys a property in one of our villages, regardless of age, will benefit from the multi-facilities on offer. 
Enjoy your retirement for longer
As mentioned earlier, people tend to say they wish they'd moved in sooner. With each village having something for everyone, and offering peace of mind for all ages, many say that the one piece of advice they would give is to move in whilst you're young enough to maximise this lifetsyle….. 
"Make the move as young as possible so you can enjoy this unique retirement lifestyle for as long as possible," says Marian Walter, a resident living at Elmbridge Village. 
Read more on Marian's thoughts and experience of moving into Elmbridge Village.  
There really is something for everyone and we really do cater for your individual personality as much as possible. Alan Murray moved to Lime Tree Village, with his two lovingly restored motorbikes and his wife Carol! Another reason that they love living at Lime Tree is the security, making the most of their retired years, they go away to their second home in Spain for part of the year, and never have to worry about having someone look after their home whilst away.
Retirement villages are a great option for those who want to live independent, maintenance free, active lifestyles. 
We also attract some truly interesting people that have not yet finished their adventures. Seventy-seven-year-old Diana Willcock, has travelled all over the world capturing photos of wildlife. Since moving to Elmbridge Diana has enjoyed the close–knit community, the social engagements and showing her photographs to residents. This blog is just as fascinating as Diana, so put the kettle on and have a read here. 
All of our residents provide a rich tapestry of like-minded people. 
Additional support is available, as and when it may be required
Peace of mind is always near at Retirement Villages, to us that means providing a combination of access to private health and social care, as well as activities to keep the mind and body young.  
Back to top