Cultivating community with placemaking
Placemaking is a comprehensive approach to urban development that centres on one crucial element: the people. It's about engaging with communities to create an environment that truly caters to their needs.
At Retirement Villages Group, that looks like developing spaces that not only resonate with the local community but also have a tangible impact on the socio-economic fabric. From experience, we know it's here that developers and local authorities align so that projects can get off the ground with ease.
With over 150 years of combined experience, our Development team leverages insights and feedback to deliver transformative projects that contribute to each unique community and anticipate future needs. Part of this future-focussed approach includes prioritising environmental wellbeing with developments that are whole-of-life net-zero carbon.
We're experts in the industry, but we're also passionate about what we do. This is not merely about creating homes but nurturing lively, integrated communities where retirees and locals can enjoy more choice, more flexibility, and more freedom.
Engaging with heritage & local communities
In essence, to 'placemake' is to centre a project around a community's values, priorities, and history. This is at the core of our development objective for Botanical Place.
The team proactively collaborated with local organisations ,such as Byfleet Heritage Society, in order to better understand the aspirations of the area and incorporate it into our development plans.
Guy Flintoft, Planning Director, comments,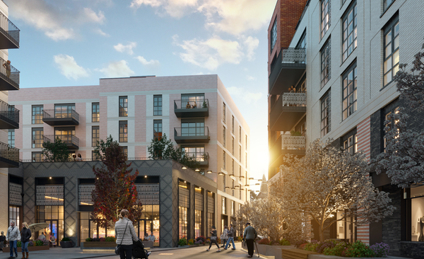 Through fostering robust partnerships with local authorities, residents, and community groups, we develop integrated retirement communities that are an organic extension of the existing communities.
The new community will feature a range of indoor and outdoor spaces available to everyone, including:
A pedestrianised public square
A rooftop garden
A state-of-the-art wellness centre
A swimming pool
A cinema
Cafés
Restaurants
Space allocated for independent retailers
These features not only add to the local amenities, but will create jobs and support small businesses.
Urban regeneration in Chester
As well as placemaking, urban regeneration is a key part of each development project, seeking out new sites to build in town centres.
The Wyldewoods development is the embodiment of these two initiatives. This project is forecast to the boost local economy by £39m and create of over 300 jobs during the construction process. The development is also projected to increase local spending by £1.5 million annually and create 30 full-time jobs.
It will rejuvenate a disused garden centre, turning it into a lively neighbourhood with 155 modern apartments, a restaurant, café and wellness area, as well as extensive gardens. As with all the developments in our Thrive Living collection, the amenities will be open to everyone.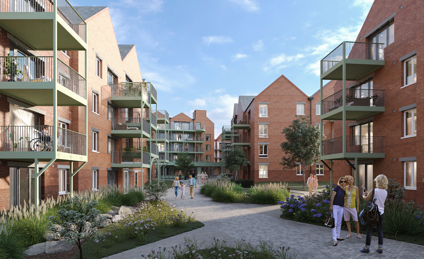 The value of intergenerational relationships in enriching lives cannot be overlooked. One successful placemaking project brought local school students from the area together to bury a time capsule with their ideas for the future of Chester. This not only allowed them to imagine their city's future potential, but underscored how new developments can bolster community integration.
The team have been working proudly alongside Cheshire West & Chester to tackle the borough's climate emergency. Councillor Matt Bryan member for housing, planning and climate emergency explained how our whole-life net zero carbon community "is exactly the sort of development we want to see."
Prioritising community collaboration in Tunbridge Wells
With its build phase due to start at the end of the year, plans are now in place for placemaking initiatives for our £72m project in Tunbridge Wells.
The development will populate an area in the town centre that had been disused since 2000. In close collaboration with the local council and community, the goal is to breathe new life into this location.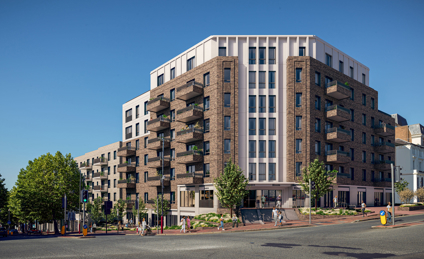 Its paramount to understand the local ecosystem before beginning any new project. Recognising this, the project began with a public consultation. This ensured that our development strategy was aligned with community needs from the outset.
It will offer an outdoor space where locals and residents can come together, as well as a café, restaurant and wellness facilities open to all. Plans also include the addition of nine retail spaces within the development. This will not only support local businesses but offer a boost to the economy and give the community more opportunity to shop locally.
By combining sustainability, community integration, and thoughtful amenities, the team at RVG are dedicated to establishing a vibrant and inclusive community hub in Tunbridge Wells.
Recreating space with volunteers at Elmbridge Village
Elmbridge Village residents have spearheaded three placemaking initiatives that contribute to our shared community vision.
The Brian France Playground, the idea of Elmbridge Village's late resident, Brian France, is a new recreational space for visiting grandchildren and great-grandchildren, something previously missing from the local community.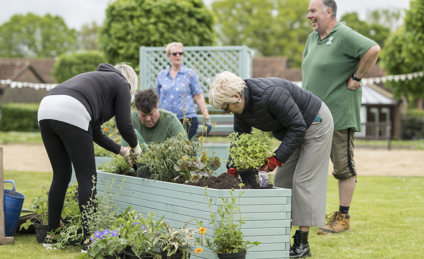 I'm so excited… for my grandchildren. We always have to take them out to find a park and run around, now we'll be able to do it in the community.
The OneStop Community Green Regeneration Programme, the brainchild of resident Lynn Puttock, will regenerate a local green. It aims create a multifunctional space that promotes community integration, while wildlife-friendly amenities maintain an environmental focus.
Lastly, Jane Briggs' Sensory Community Garden offers an adaptive environment for Elmbridge Village residents with sensory impairments, while serving as a sustainable green space for the broader community.
The garden is self-sustaining, utilising water butts for rainwater harvesting, composting for mulch, and log piles for wildlife habitation, including a bee hotel. Jane curated the garden plants with the help of the local parish council youth group before undertaking the build with resident volunteers.
These projects are now complete or underway, creating more community spaces and fostering community relationships in the process.
Putting people at the centre of every development enhances the quality of life for communities now and in the future.
Our Development team are looking for exciting collaborations with landowners that share our vision. Find out more about partnering with us or get in touch at development@retirementvillages.co.uk.
Back to top