Where are the best places to retire in the UK in 2023?
Choosing where to live is an important factor for all adults, but when considering where to retire, needs and desires change.

Naturally, what worked for a full-time commuting worker, or family-centric young adult, is not the same as someone 65+ seeking different amenities or services. 
A recent survey of ours found that living independently in retirement was most important to young adults today, with 44% placing it as a key retirement factor. Our retirement communities are proving hugely popular for exactly that reason, and we will continue to develop more sites throughout UK locations in the coming years. Given this, we wanted to understand where currently offers the best quality of life to seniors, and have conducted a study to find out.
What makes a town or city good for retirees?
Our research has assessed British locations against five important lifestyle factors that are crucial to retirees; 
Total percentage of local residents who are the same age 
percentage increase in retiree population over the past decade 
transport connectivity for exploring the location and access for visitors
crime rate for assured safety and peace of mind
outdoor parks and activities for an active and fulfilling lifestyle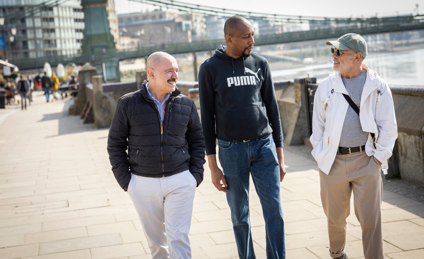 Lucy Black from Retirement Villages comments: "We purposefully chose to analyse data sets that are actually important to a retiree in 2023, rather than looking at stereotypical hospital scores and bingo halls! We are much more interested in factors that offer seniors a fulfilling, active and exciting life such as population figures of over 65s for social activities, and public transport connectivity so families can visit. We found - from the latest census data - that over 65s and retirees account for 18.4% of the population in England and 21.3% of the population in Wales, so it's important that many more towns and cities adapt to needs and activities for all ages.
"Too often, people assume that retirees should be near their families for convenience of visits, but at the age of 65, someone needs as much independence, exploration opportunities and activities as their children and grandchildren. In modern Britain, most families are dispersed and we have amazing transport connections, so we encourage our prospective residents to choose locations and communities that fulfill their retirement expectations and encourage a social, and active lifestyle first, with geographical location as a secondary factor."
Ranked: The Best Places To Retire in 2023
Using the latest data and figures online, we have individually scored towns and cities across Great Britain, to create an overall ranking across the five key factors. Here's the top ten places to retire this year, according to our findings:
1. Guildford
2. Swindon
3. Warwick
4. Gloucester
5. Warrington
~6. Telford
~6. York 
7. Reading
8. Plymouth
9. Cardiff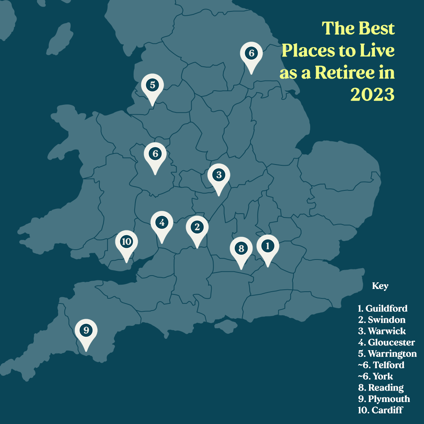 About the top 3 places for retirees

Guildford
Our study has scored Guildford as the best place to retire in the UK, with it scoring most highly across the board. Located in West Surrey and just 27 miles from London, it is great for accessibility for visiting family and friends. Guildford scored highest in the National Trust category, with the most number of locations and National Trust activities on its doorstep to offer retirees here an abundance of outdoor walks, local history and activities. 
Guildford also has the third lowest crime rate score in the study - of 72.3 per 1000 people - making it a safe and community-driven location. 
Several of our community locations are based in towns across the Surrey countryside near Guildford, including our first - and the UK's first-ever - community; Elmbridge Village, just down the road from Guildford in Cranleigh, which might explain the popularity of this location!
Swindon
This beautiful town in the southwest of England is rich with museums and art collections. Swindon is ranked third in Britain for retirees, and scored high in our study for lowest crime rate overall with 68.3 crimes per 1000 people. It also has great access to National Trust places, scoring 3rd place in that category. 
Most notably, Swindon was in the top three for its popularity with seniors, with a high percentage increase (28.6%) in over 65s moving to the area in the last decade. It was superseded in this category slightly by Telford and Milton Keynes; MK has a huge 43.6% increase in over 65s in the last decade, highlighting the town's improvements and offerings to attract seniors. 
Warwick
This West Midlands town on the River Avon is most renowned for its medieval castle, but being steeped in history might just be what makes it an interesting location to retire. 
Warwick scored particularly well across the board, being particularly noted for its low crime rate, a high percentage of over 65s (accounting for 18.9% of the town's population), and also its increase in retiree popularity. When comparing 2011 census data with 2021's latest figures, Warwick was 7th across the country for its 21.5% increase in over 65s living here, making it a popular retirement spot.
One of our growing communities - Lime Tree Village -  in Warwickshire, has recently seen an extension with new cottages available for retirees and some more almost completed, so we already can see why it's a great location for retirees. More information on open days, discovering Lime Tree and the surrounding town and county can be found here.
Lucy Black, Marketing Director, comments,
"This study has been incredibly interesting and helped to reveal potential up and coming locations that will be sociable, safe, accessible and popular with retirees. Historical assumptions are that British seniors like to be near the seaside, but our study has shown which towns and cities best cater to retirees in 2023 across key factors. Locations with an abundance of National Trust activities, are easily accessible by train for family or adventures, and have a low crime rate are truly non-negotiables these days. We'll continue to learn and adapt our offerings and growth plans to bring even more independent living options to retirees in a variety of key locations such as those in this study
Methodology

This study was conducted in January 2023. We took the 43 biggest towns and cities across Great Britain, and ranked and scored them across 5 different criteria that are important for quality of life as a retiree today. 
These are: % of people aged over 65 living there, % increase in this generation living or moving there over the last decade, number of national train stations, crime rate and number of local national trust locations.
We combined individual rankings across each category to give each town and city in Britain an overall score to reveal which is best across the board as a settlement location for a retiree.
Data sets and sources
Back to top