Healthy Eating in Later Life
Making Better Diet Choices as we get Older
Taking care of your health should be a priority no matter your age. Keeping your body healthy and nourished allows you to thrive and enjoy health and wellbeing for as long as possible.
"It's not only about lengthening life expectancy, but longevity," explains our Head of Care and Wellbeing, Shirley Hall. "Longevity focuses on more than living. It's about living well; treating your body kindly so you can get the most out of life and continue living independently for as long as possible. That includes a nourishing, mindful diet and exercise."
This doesn't have to be a complete overhaul of your diet and lifestyle, or huge changes overnight. It's about making the changes you can, and developing good habits that you can stick to.
No matter your age, it's never too late to start making healthier choices for your body and mind.
Tips for Healthy Eating in Later Life
Follow the NHS Healthy Plate Guide
The NHS has a great guide for helping you incorporate more nourishing foods into your daily meals.
Just over ⅓ - fruit and vegetables
⅓ - high fibre, starch foods
Around ⅒  - proteins
The rest - fats, oils and spreads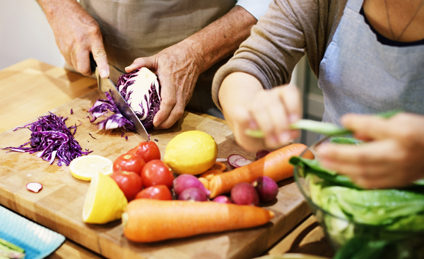 The guide explains that fruit and vegetables should make up just over a third of the food consumed each day. So, when you're plating up your breakfast, lunch or dinner, try to make sure at least a third of the plate is fruit or veggies. That could look like adding a few handfuls of berries to your morning cereal, or choosing two of your favourite veggies to have with lunch.
A third of your plate should also be high fibre or wholegrain starch foods like oats, couscous or potatoes. These fibre-rich foods are known to help lower cholesterol levels. Why not try buying wholewheat pasta instead of white at your next weekly shop? Or switching out white bread for healthier wholegrain?
Around one tenth of your plate should be made up of healthy proteins like beans, pulses, fish, eggs or lean meats. This wonderful macronutrient is vital for our bodies to function properly, and helps you feel fuller for longer. Aim for two weekly portions of fish if you can.
The rest of your plate can be made up of dairy, or dairy-free alternatives, which are a source of vitamins, calcium and protein, as well as fats and oils for cooking and dressing.
A simple breakfast idea combining all of the above could be reduced-salt and sugar beans on top of lightly-buttered wholegrain toast, with a side of grilled mushrooms and tomatoes.
2. Opt for healthier oils
When cooking, marinading or dressing foods, opt for unsaturated oils and spreads like olive oil, walnut oil and avocado oil. Simply swap out the oil you currently cook with for one of these healthier alternatives. Even when choosing the healthier option, oils should still be eaten in small amounts.
3. Stay hydrated
Six to eight glasses a day is still the UK's recommended daily amount of fluids. That includes water, milk, sugar-free drinks, tea and coffee.
If drinking a lot of water isn't something you're used to, start keeping a glass nearby and taking small sips. If you don't like the taste, add some slices of lemon or cucumber, or make the switch to sparkling water. Chilled, with ice and some squeezed lime, sparkling water can be a refreshing treat.
4. Eat seasonally
Shopping locally at your grocers for seasonal fruits and veggies isn't only healthy for the economy and the environment, but for our bodies, too.
The chefs at our UK retirement communities swear by seasonal eating. Menus are adjusted seasonally in all our bistros and restaurants to make the most of fresh produce and create tempting dishes for residents.
Chef Manager, Mark at Mayford Grange tells us,
I keep my menus enjoyable by changing them weekly & speaking with Mayford Grange residents on a regular basis to get an insight of what they would like to see on the menu whilst still maintaining a healthy balanced menu for all residents. All meals are freshly prepared on a daily basis using fresh ingredients from our local suppliers. I try to keep all my dishes healthy with choices so the residents at Mayford have a good balanced & nutritional meal each day.
Plus, eating what's growing at the time means a more varied diet to help your intake of vitamins and minerals you may not normally get.
Many of our communities have onsite allotments that our green-fingered gardening groups maintain. When they're ready to harvest, the fruit and veggies that grow here supply our kitchens. That keeps food miles down to, well, zero! 
Here's a simple seasonal calendar from the BBC that can help you when writing your next shopping list.
5. Watch your portion sizes
As you age, your body need fewer calories, so it's important to eat appropriate portions. Just by using smaller plates and bowls, you can better control your portions.
6. Limit processed foods
This won't be a surprise to anyone, but eating some processed foods can be bad for your health. However, not all processed foods are created equally. It's when they are high in salt, sugar, and unhealthy fats, like crisps, sausage rolls, cakes and biscuits, that they can negatively impact wellbeing. Try to limit your intake of them where you can.
The NHS has a great guide on healthy vs. unhealthy processed foods so you can get to know them better.
7. Seek advice
When in doubt, book an appointment with your GP or a registered dietitian for advice on healthy eating.
It's worth noting that some older people are underweight and may have been given medical advice to eat a high fat / high protein diet. Always stick to the eating advice given by a qualified dietitian or doctor.
Easy, Healthy Snack Ideas
Up your nutrition easily with these healthy snack ideas
Walnuts
Studies have shown that eating walnuts may help slow cognitive decline and improve memory in older adults.
Dark chocolate
Dark chocolate is rich in flavonoids which have been seen to improve heart health by lowering blood pressure, reducing inflammation, and improving blood flow.
A great way to combine the two could be to cover walnuts in melted dark chocolate and let them set in the fridge. Then you can snack on them throughout the day with a cup of tea or after dinner.
We love watching the residents in our communities thrive in later life, and we're always looking for ways to bring wellbeing into the day-to-day. From chefs that cook delicious, nutritious meals in our restaurants, to onsite exercise classes, to health and wellbeing initiatives, living well and ageing well is made easy, so you don't have to think about it.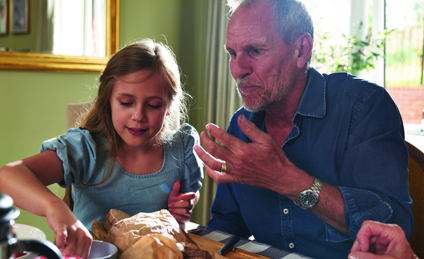 Get in touch to find out more about our thriving communities where our residents live well, together. Or join an open day and come and experience the community spirit for yourself. 
Back to top