Benefits of gardening and the great outdoors
Copy link



Getting pleasure from looking at or walking around a beautiful garden is almost as good as actually getting stuck in and doing the gardening yourself.
Well, that is if you're a green-fingered gardening fan! Whether we are from the Alan Titchmarsh school of gardening or not, there will be a few of us who cannot deny that with the march of time, gardening can start to lose a little of its appeal. It might be fair to say that there's occasions when we want to relegate this popular pastime from an enjoyable pursuit we face with relish to more of an unenviable back-breaking chore that we put off and put off with each passing season.
Before we all completely ditch the trowel and gardening gloves though, did you know there are plenty of positives to gardening – including a long list of health benefits.
 
Gardening and your health and mental wellbeing
Gardening is considered to be a moderate-intensity exercise, with the body burning up to 330 calories for each hour of gardening activity. This cardiovascular exercise also contributes to lowering blood pressure, maintaining a healthy heart and cardiovascular system.
Spending time gardening outdoors is also beneficial for our bones. Being exposed to sunshine encourages our body to make vitamin D, contributing to the absorption of calcium – critical for bone formation. Obviously, there are negatives; not applying sunscreen if you are planning on spending more than 15 minutes gardening outdoors in the warmer months.
When it comes to coping with stress, gardening outdoors can help to alleviate the associated symptoms. Studies (Ref ScienceDirect) have shown that there is a correlation between the improvement of symptoms of stress and anxiety and gardening. Further research has demonstrated that just being outdoors can lower levels of stress inducing hormone – cortisol, and heart rates. Some hospitals in America have even begun to use gardening as rehabilitation therapy to rebuild patients mental and physical health.
Getting pleasure out of your garden – whatever its size
Size really doesn't matter when it comes to gardening. You may be the proud owner of a stunning window box or an established courtyard, brimming with colour; or you may have an acre with a pond to tend to. Whatever the size, it's all about getting enjoyment and pleasure from its upkeep and maintenance.
With spring just around the corner, thoughts start to turn to the great outdoors. Our village grounds' teams are getting ready for the change of seasons with anticipation. We decided to catch up with Tom Hagger, at our Moat Park community in Great Dunmow in Essex, to ask him for his advice on some of the best options to consider for spring planting.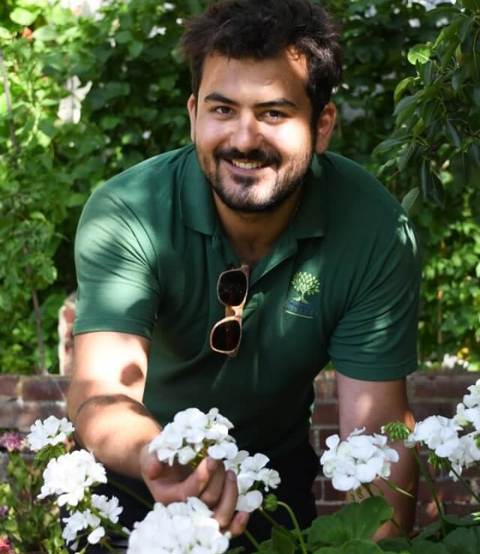 Tom is one of a new generation of younger gardeners, and takes his inspiration from The Rich brothers, Harry and David – who are regularly on our screens in the BBC 'Garden Rescue' series.
Here he shares his guide on what to plant now for late spring and summer blooms.
Spring planting
Ideally, spring flowering bulbs should be planted in the autumn, but now the winter frost has passed there is still time to plant bulbs and plants that will provide a splash of colour in the late spring and early summer months.
When planting bulbs, they should be planted at the proper depth; for most plants this is three times deeper than their size. For instance, if the bulb is two inches in size, the bulb should be planted at a depth of six inches. Don't forget to work compost and organic matter into the soil to create the best conditions for growth.
Oriental Lilies
With large fragrant flowers, oriental lilies are a dramatic addition to any garden, with a number of varieties to choose from, in a range of sizes and colours. Due to their size, it's highly like that they will need extra support, and it's best to plant each bulb a foot apart.
Asiatic Lilies
These lilies are brighter than their oriental counterparts. They are also smaller and sturdier, meaning they can be planted closer together and don't require extra support. Asiatic lilies bloom earlier, filling your garden with a pop of colour quickly.
Bleeding Hearts
Bleeding hearts can be planted from seeds, but it's much easier to grow them from seedlings. Well-known for the jewel-coloured, dramatic blooms, this flower likes to be in partially sunny locations and in well-drained soil. To enable them to grow successfully, plant Bleeding Hearts one to two feet apart.
Crocosmia
A perennial plant offers blooms in bright hues such as orange, red and yellow. Reaching full bloom in the summer, these tall plants can reach up to three feet, and prefer to be in full sunlight attracting the attention of bees and butterflies, who flock to their arching flowers.
Hardy Begonia
Hardy by name, and hardy by nature, these bulbs are able to survive harsh winters and prefer to be placed in shady spots. Emerging from the ground in late spring, by midsummer they present a crescendo of white and pink flowers accompanied by green and burgundy heart shaped leaves.
Geraniums
Beautifully scented and easy to care for, geraniums are available in a variety of colours, shapes and sizes. Geraniums should be planted in pots with a well-draining soil mixture and drainage holes to prevent the roots from rotting.
A true sun-worshipper, these plants present their best blooms when they can enjoy life in a place that gets four to six hours of sunlight a day. Another way to encourage blooming is to regularly dead head flowers and fertilise every two weeks.
One of the most popular geraniums is 'Johnson's Blue'.  It has deep, lavender-blue, saucer shaped flowers that spread across mid-green leaves. They should be planted at the front of a border and divided in the autumn.
Chinese Ground Orchids
Another shade-loving plant, Chinese ground orchids make themselves known in the summer months. A relatively small plant that only reaches a height of around 18 inches, the flowers come in lavender, white or purple, and after some time, the orchids spread, creating a blanket of soft tones in the garden.
Nepeta
Also known as 'catmint', nepeta is an herbaceous perennial. With it, it brings a spread of vivid blue spires that cover its accompanying grey/green foliage, providing wonderful ground coverage. Its lemon scent lends itself well to being planted by a pathway where it can be appreciated by friends and family, alongside cats, bees and butterflies.
Nepeta loves to be in full sunlight but also fairs well in cooler weather.
Ornamental cherries
This tree has achieved status from the RHS award of garden merit. A dramatic show of pink cherry blossom, flowering in late spring.  Perfect for small gardens, these trees produce small, tart berries that are unpalatable to humans, but attract a variety of birds.
Ornamental cherry trees achieve a total spread of three metres (or 12ft). You should avoid pruning unless necessary, however if required, prune in the summer months when the sap is rising.
Joining a gardening club
Gardening is a popular hobby – it isn't just about the physical side of it though. Gardening clubs are thriving and we have a number at our villages. It turns out that talking about gardening and sharing ideas can be just as enjoyable and very sociable occasions too!
Retirement communities that allow gardening
If like our communities, you are able to garden, either outside your own home in pots and planters, on one of our allotments, or as part of the village gardening club, it means that you don't need to lose that green finger touch. Not only does it help with keeping fit and healthy – physically and mentally, as we talked about earlier, we all accept that there's little that gives you greater pleasure than growing something from scratch, even if it's as simple as a sunflower seedling planted with your grandson when he comes to visit!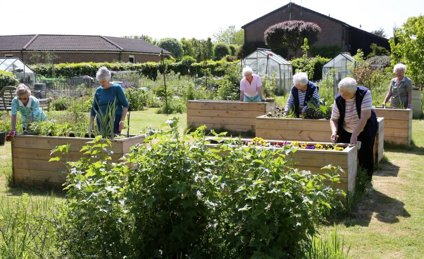 However, you choose to enjoy your garden – from the comfort of a patio chair with a Gin and Tonic in hand or down amongst the weeds on the vegetable patch, we sincerely hope you have a good season ahead. And if you're ever passing one of our villages please do call in and see the incredible job our grounds teams do. Our grounds are our pride and joy and they will undoubtedly give you plenty of inspiration.
Discover more
You can find out more about a rewarding lifestyle by contacting a member of the Retirement Villages team who will be happy to assist you.
Back to top