Garden improvement plans are in full swing at Thamesfield
Our residents enjoy a tour

Earlier this month, Gavin Dickason, Maintenance and Grounds Manager at Thamesfield completed a tour of the grounds with three of the committee members to discuss the exciting and varied project plans of Thamesfield Village Grounds and Gardens.  The plans which will greatly improve the outdoor spaces also play a key role in the Retirement Villages Group Sustainability Strategy, will be implemented over Spring 2022.
Ronald Gammie, Chairman of Residents Association was joined by  Residents Association Members Mr Michael Rapinet and Mr Anthony (Tony) Fox to run through the plans first hand.
Lorence Pjetri, Village Manager said, "The expansive grounds and gardens here at Thamesfield are hugely important to our residents and these plans for improvement will offer even more opportunities for our community here to enjoy our outdoor spaces."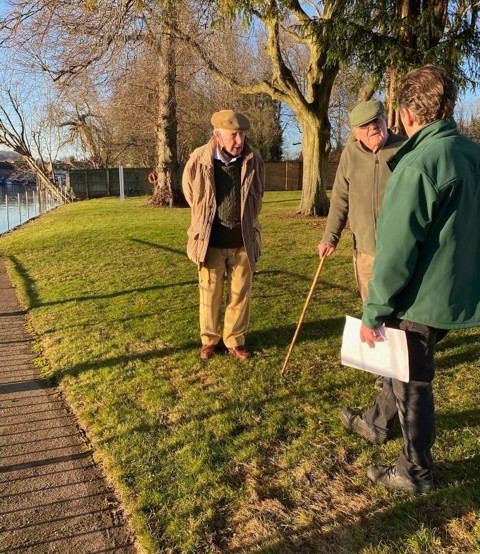 The ambitious plans include a refresh to many of the outside spaces here at Thamesfield Village as well as new clubs for residents to join.  
A beautiful private rose garden, complete with herbs and edible flowers to be used by the kitchen team for home-grown, freshly cooked meals, will be open to residents and form a lovely backdrop for future events.   
The croquet lawn will receive a make-over as part of the plans, with herbaceous borders edging the lawn itself and plant pots placed around the stairwells of the lawn. The area will be completed with four palm trees placed on each edge of the borderline, complimented by beautiful uplighters, making a lovely setting both through the day and evening.
The improvement plans will also see us update our  Water Fountain and landscape the main entrance.   Watch this space as the water feature changes colour throughout the year including red, white and blue for The Queen's Platinum Jubilee.
There are also plans to work on the grounds by the Riverside, which will open up for view and improve visibility so residents can enjoy the beauty and activity on the river.  Any shrubs that are removed will be relocated as part of a wildlife feature.  Finally, we will vastly improve our grand entrance pathway, where we plan to introduce various plants as part of the edging of the pathway border as well as an eye catching new plant to take pride of place at the entrance to the main Thamesfield Village building.
The new Residents' Allotment and Gardening Club will become a key feature for our current and future residents.  Two new raised beds will be installed for our residents to plant herbs, flowers, and hopefully we'll start to see our green fingered enthusiasts amongst us grow fruit and vegetables – we'll be popping our home grown cucumbers in our summer Gin and Tonics in no time.
Monthly Gardening Club will launch later this year led by Thamesfield Gardener Kevin. Lorence says,
Residents are already lining up to join this club. It's really important for us that residents are involved in the creation of these activities, and indeed the improvements plans which is why we ran this tour. Gardening Club will be an opportunity for Kevin and residents to walk around the grounds and gardens and discuss the progress, including allotment, share skills, tend to their own plants and enjoy each other's company. I can't wait to see what our residents grow!
Lorence continues, "We put our residents at the heart of every positive change we plan, and in continuing with such a "person-centred" approach, Thamesfield Community come together to celebrate the beauty of what Thamesfield has to offer when our beautiful grounds and private gardens come to life"
Residents are also intending to join the The Queen's Platinum Jubilee campaign by planting a tree.  Residents have suggested to send out a survey and ask what type of tree to plant. Setting up a contribution and donate to charity has also been welcomed.
Watch this space for more details of the improvements to the grounds and gardens over the coming months….
Back to top