Lorence gets to know newest resident Mr Rodney Haynes
Lorence Pjetri, Village Manager here at Thamesfield Retirement Village took a little time out to get to know newest resident, Rodney Haynes, who one month in is enjoying his new home, community and all of the home-comforts the community affords him.  
The two met over lunch in Rodney's new apartment.   Prepared and served by Head Chef Adrian, they enjoyed seared scallops and pork belly, roasted apple and pea puree served with celeriac pickles and wild rocket complimented with a glass of red wine and finished with a cheese board.
Rodney, aged 86 took his time before ultimately making the decision to sell his home, downsize and move into a rental apartment here at Thamesfield.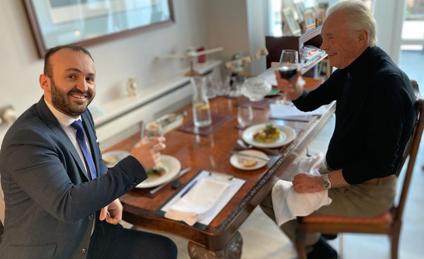 For Rodney, he had known for a long time he would move – but wanted to get the next step in his life right.  He knew what he wanted. Rodney says, "I was looking for somewhere which had a lovely view, and this obviously has the biggest attraction – the aspect.  Equally I didn't want somewhere that was massive, I wanted something that was more intimate, but with a bit of space.  I am not attracted to large places. I wanted the view, and I came here several times and met people and thought it looked good.  I wanted a small, intimate community".
Rodney, who had been in his previous home for over 40 years has worked in Henley for 3 decades.  He spoke to us about moving from a large 5 bedroom house with a big garden, "The garden was huge, and the house was beginning to look neglected, not deliberately but I thought it better to quit, not spend the money and move" Rodney said, "I'd rather spend my money on a place like this than my old house."  For Rodney, the choice to rent made more financial sense at this stage of life than selling and buying again. 
Lorence said, "we are finding more and more people are choosing to rent here. It seems to be a more appealing financial option for our residents to sell their home and move somewhere on a rental basis, where they still have the security of a home, but are surrounded by a team who can support with day-to-day life and provide the facilities to offer extra comfort to someone's life.  We are always at the end of the phone if someone needs us – be it to arrange decorating or support with housework – and of course we have the expansive gardens but our team look after them so our residents can enjoy them."
Rodney added, "I have been backwards and forwards a lot in the last year before making my decision.  In the end my house sold within a week – it was quick!"
Lorence commented, "we know these are big decisions.  The decision to downsize (or right size as we prefer to call it) can be daunting.  We support residents if they want to take their time over their decision or if they come here and know instantly.  We will move at the pace a new resident chooses,"
A big golf fan, Rodney who is a member of the local golf club and gym now has more time to enjoy these pastimes.   As Covid restrictions ends he may be found jetting off abroad to find some sunshine or spending time with his children and grandchildren.
At Retirement Villages we have a range of options when it comes to buying, renting or even to try before you buy, read more about it here.
Back to top