Moving in retirement to be closer to family.
Life in the West Yorkshire hamlet of Howarth was as close to idyllic for Lew Case and wife Jean as they could hope to imagine.
Then the bubble burst. Jean was diagnosed with Leukaemia and she sadly passed away.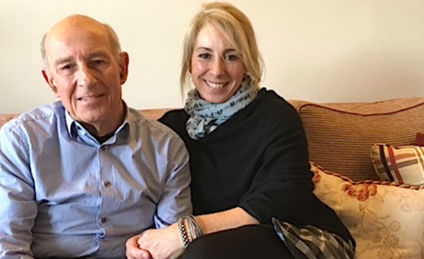 The couple's many, many friends rallied round and although life wasn't the same, it was bearable for Lew – to a point.
The former chartered engineer takes up the story:
"We lived in a beautiful part of the country but I started to realise that I was becoming more and more isolated."
If Lew was going to move and downsize from the four bedroom converted barn he and his wife had called home for the last 23 years, Lew was insistent that he must make the right move. The grandfather of four decided to come south (in the hope of slightly warmer weather) and closer to some of his family.
Daughter Karen Mallinder admitted she had mixed feelings about uprooting her dad:
"I knew this was the right thing for him but it didn't stop me feeling guilty that dad was leaving his friends behind and would be starting a brand new life. I had to make sure this was right for him, not just a decision that was right for me, by having him closer to one of his children."
When the property search began, the Warwickshire retirement village – Lime Tree Village, near Dunchurch, Rugby – was recommended by friends of the family, who's parents are living at Lime Tree Village.
As there were no bungalows for sale in the village at that moment in time, Lew and Karen had a look at the newest phase of build underway (The Polo Field); they came to view and Lew opted for a brand new two bedroom cottage.
"It is a lovely rural setting and dad likes the countryside even though he still has the main amenities just outside the village," explained Karen.
Lew moved in when he was 76. It was an enormous change for him and in his first few weeks he said,  "I'm waiting for the good weather to come and then I will see the village and its wonderful grounds in all its glory," he added.
"But for now, I already realise I have a new type of freedom. I don't have as many chores to do or as much maintenance on the house to worry about. There are plenty of social events happening in the village and I've already met some lovely people. I can dip in and out of this side of village life whenever I want to which is good to know."
For Karen, moving her father closer to her brings with it a real peace of mind, as she explained: "Dad can get involved in village activities, I am close enough to call in for lunch and dad can drive over and stay with us."
Back to top