Here at Retirement Villages, we've been creating independent living villages since 1981 – but we've recently seen more and more TV programmes and news stories featuring later life living, and the options available to older generations – some fictional, and other which are very real!
Here are just a couple items I wanted to share with you, with both offering very different dimensions to retirement living…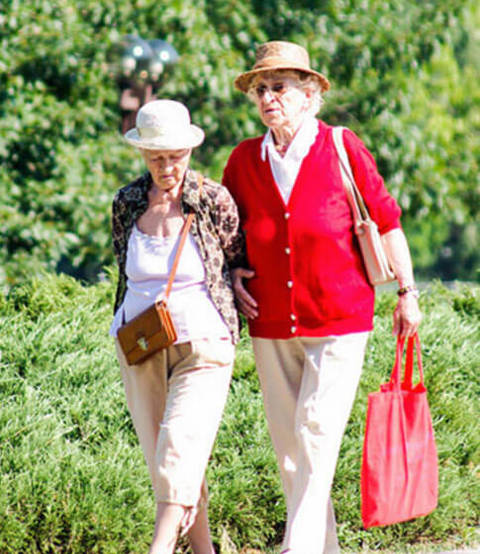 Cohousing, for women only
A scheme established by a group of women in Barnet, OWCH (Older Women's Cohousing), is looking to create a cohousing community for those aged over 50. The difference? This retirement option is only available to women, and this month the group received the good news that they can start moving in to their housing complex this summer.
Having designed and planned the houses themselves, the group prides themselves on their single-sex community ethos, with founder member Angela Ratcliffe stating: "Loneliness increases as you get older and one reason is because women live longer than men." Creating a women-only community ensures the group can support each other in old age, as well as live near those who share similar hobbies and interests.
Their bags are packed, with residents moving in soon
After initially receiving planning permission in 2013, the project is finally nearing completion, with over 25 women planning to make the move in the coming months.
Single-sex communities are probably a first for retirement living in the UK, and it's great to see a group of ambitious women working hard to develop something for their community which will benefit ladies for years to come.
Would you move to India to retire?
If you haven't watched The Real Marigold Hotel documentary on BBC Two, I'd highly recommend it. The programme follows eight celebrities as they attempt to set up retired life in Jaipur, thousands of miles from their homes in the UK. Based on the film 'The Best Exotic Marigold Hotel', the cast of retirees includes ex-dancer Wayne Sleep OBE, actress Miriam Margolyes, comedian Roy Walker, and TV chef Rosemary Shrager. As part of this three-week experiment into international retired life, the celebrities took part in regional activities such as yoga, learning Hindi, and visiting the Taj Mahal. During their stay they also searched for potential retirement properties, as well as looking in to the medical care available in India.
Culture shock?
Whilst retirement can be a culture shock for some – moving from a hectic working week to a quiet life – moving to India could prove to be a real change, with a complete change in daily routine, and without the support network of family and friends close by. The group of celebrities will also have to work together to set up home in a haveli (an Indian private mansion), establishing who will cook and clean, whether they should hire staff to help with chores, and how they will travel around India during their stay.  Catch up on the BBC website to find out how they got on!
With a larger proportion of the population searching for retirement options than in previous years, the demand for higher quality private retirement living has risen too. Retirement Villages has been developing new properties at a handful of villages, including Elmbridge Manor, Moat Park, The Polo Field at Lime Tree Village and Charters Village. It's not just about great housing though, but a full range of activities for residents to participate in to feel like they're part of an engaged community. The clubhouses at each village host a range of events such as coffee mornings, yoga, musical afternoons and much more.
If you're looking for information on retirement options, why not sign up to receive a free RV Life magazine? Call us on 01372 383950 or email info@retirementvillages.co.uk
Back to top