Life in a Retirement Villages community means plenty of opportunity to concentrate on your wellbeing. Wellbeing to us, means supporting our residents to live their life to the fullest, to continue to do the things they love whilst introducing new experiences whilst keeping body and mind active.   Ageing should never get in the way of this.
We know that amazing things can happen when we take time to focus on all aspects of our physical, emotional and mental wellbeing – regardless of age. However, this becomes even more important as we get older. research by Age UK found that participation in enjoyable, meaningful activities was the biggest direct factor for wellbeing in later life – providing a clear link between how we choose to spend our time and how good we feel inside and out. The charity's index also cites physical activity and positive social interactions as key influences for senior wellbeing.
With this in mind, what can you do to keep living healthily and happily throughout your retirement? Here are our top tips to live well and age well.
Keep Exploring
Allowing your sense of adventure to thrive is a great way to stay active physically and mentally. From a walk to a hike or meeting friends for a stroll, getting out in the fresh air on a regular basis carries a whole host of benefits – from improving your mood to boosting your immune system.
Our retirement villages are designed with outdoor space, from extensive grounds and allotments on site, to stunning natural countryside right on your doorstep. And with regular opportunities to hop on public transport or the village mini bus to get out to local towns, shops, scenery and cultural attractions, retirement living at one of our villages comes with no shortage of ways to exercise your inner explorer.
"We like to get involved. If you can remain active mental and physically it all helps …that's what we try and do." – James and Barbara, Debden Grange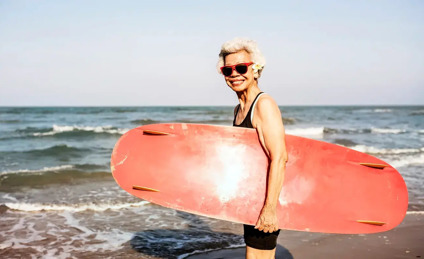 Get Creative
Keeping your creative juices flowing on a regular basis is proven to boost happiness, improve your immune system and even reduce the risk of mental health issues such as depression, anxiety and stress. Here at Retirement Villages, there's always something going on to keep your creativity alive – whether that's a creative writing group, a choir, a knitting meet up or a drawing class.
There are a range of activity groups across all of our locations – but the best part is that if you don't see one you'd like to join, you can always set it up yourself. Creativity is also a fantastic way to socialise, meet new people and have a laugh with likeminded people – all key aspects of maintaining your mental wellbeing.
"I looked at my diary two months ago, and in the 31 days in the month we only had five days completely free. Every single day except five had something on it!" – James and Barbara, Debden Grange
Stay Fit
Fitness plays an important role in wellbeing – not just in your senior years but throughout life. There's strong evidence that staying active as you age can lower the risk of developing a range of health conditions, as well as giving you more energy, a sense of achievement and a mood boost.
The NHS recommends at least 150 minutes of moderate activity every week – ideally doing something every day. Whether it's fast walking, cycling, tennis or even boules, there are plenty of ways to put exercise on the agenda in a Retirement Villages community. Depending on where you are, you might find Zumba, swimming, yoga and aerobics on the schedule – and our health-boosting tai chi classes at Gradwell Park are proving especially popular.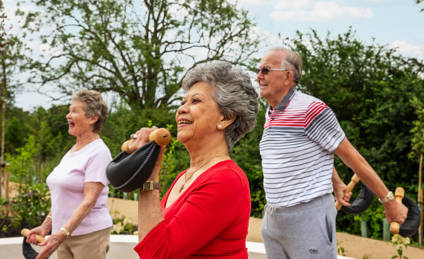 Feel Welcome
Being surrounded by positive energy and people you love has a huge part to play in your level of wellbeing. All Retirement Villages locations have guest suites available for family and friends to visit, and with plenty of social activities happening every week, making friends has never been easier.
From movie nights to summer barbecues, quizzes to coffee mornings, our communities are full of moments to cherish great company and make connections with those around you. Research suggests being close with friends and family and participating in meaningful social activities may help people maintain their thinking skills better in later life – and that's exactly why we place such a focus on helping our residents fill their days with friendship, fun and freedom.
"Everybody is friendly and there is always someone to have coffee with and have a chat to. We have a social evening once a week,." – Bobby, Debden Grange
Why not come and see for yourself at one of our even popular open days.
Back to top