Elmbridge Community Grant Winners
The Elmbridge Community Grant competition appealed for sustainable project ideas from residents. The prize? - An £5,500 grant to bring their plans to life.
Submissions were shortlisted based on their ability to create long-lasting environmental and community impact, either within our Elmridge community or the surrounding village of Cranleigh. Find details of the competition requirements here. 
All three shortlisted projects were unanimously selected by our judging panel! These winning initiatives include a new children's play area, a regeneration of Cranleigh's OneStop Green and a sensory garden.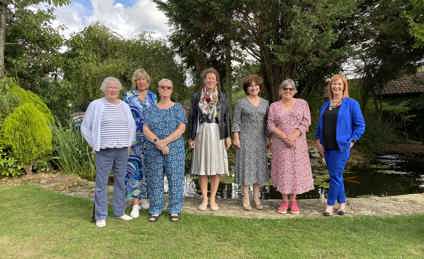 The Brian France Playground

Brian France, our first winner, wanted to build a bespoke play area for the grandchildren and great-grandchildren of Elmbridge residents. It would encourage more regular family visits by providing somewhere for children to play. To reduce ecological impact, Brian's pitch included using grass matting to level the site, avoiding the need for earthworks.
Brian's commitment to this idea was exceptional - he created this pitch from his hospice bed. Sadly, Brian has since passed. The Brian France Playground is now part of his legacy and will be built in his honour.
Sensory Community Garden

Jane Briggs is the genius behind our second community project. Jane's idea was to create a sensory garden in Elmbridge Village. While the focus of the garden is to provide a stimulating environment for those with sensory impairments, it is also an additional green space that all residents can enjoy.
The garden will be almost entirely self-sustaining. Water butts will make use of natural resource, composting will create mulch for following years and wildlife habitation will be encouraged through log piles and dead hedging. The idea also includes a bee hotel, creating even more environments for bee populations to flourish in the area.
As both these projects were proposed inside the village, they will be delivered a joint initiative. Taking the best parts of both ideas to truly enhance the village and the community space for residents.
One Stop Community Green Regeneration Programme

Our third winner, Lynn Puttock, had the idea to regenerate one of the local Cranleigh Village greens. Lynn's proposal envisioned a bright, tranquil area where locals could come to unwind and spend time with loved ones. By creating another social space in the village, the restored green would help tackle loneliness and isolation for all ages.
The green would also be a haven for local fauna. Lynn's idea included bird feeders and boxes, bee houses and bat boxes, all of which would help the local wildlife flourish in the area.
Looking To The Future

This project with our Elmbridge residents is just the beginning. We encourage residents across our villages to use their experience, wisdom and passion to help create meaningful change for the planet. Whether that's through projects within the wider community or by finding simple ways to live more sustainably.
Our sustainability strategy also guarantees we practise what we preach. This includes working to reach net zero carbon emissions by 2030 and zero waste to landfill by 2025. We're also supporting local communities across employment, education and more. Watch this space.
Back to top