Botanical Place puts community at the heart of wellbeing
Even before its anticipated launch at the end of 2024, Botanical Place, part of our Thrive Living collection of integrated retirement communities, is putting wellbeing into the heart of West Byfleet, Surrey with its inaugural Wellbeing Walk.
The 5km walk is one of a programme of community-led activities highlighting the spirit of positive aging and wellbeing. Facilitated by our team, the walkers included local councillors and Member of Parliament as well as people from local groups such as U3A, Silver Friends and the neigbourhood Gardening Group. Some 40 people signed up, with almost 30 people joining in on the day.
Collaborating in the community
From the outset, our development team has made sure the Botanical Place project has had a positive focus on community and collaboration, including with many local businesses, community groups and local representatives.  The wellbeing walk is an example of this collaboration in action. Via our local network, we connected with Silver Friends, a local group that provides social events and in-home befriending services to older people. Silver Friends believe no one should suffer through isolation and loneliness, particularly in their later years.
Speaking after taking part, Sarah Potter, new homes sales manager for Retirement Villages, commented,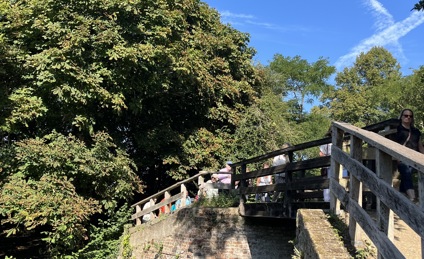 Taking a walk with friends and neighbours is not only great fun, but it's good for our wellbeing. I already feel like I made new friends. Botanical Place is all about helping older people live their best lives, and this feels like a great start
Sights, sounds and the chance to talk
The organising team liaised with local people to design a route that would suit people keen to get their daily steps and those who mostly wanted a chance to natter. We mapped out the 5km walk as a loop linking attractions such as Dodd's Bridge, Pyrford Lock, and Pyrford Manor and Lakes and a stretch of the River Wye. 
As local councillor Josh Brown commented,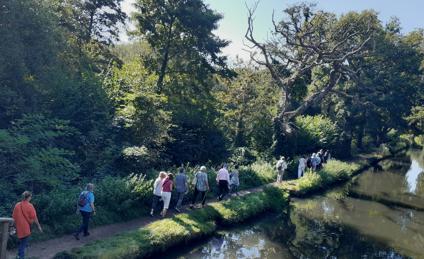 People often forget that community spirit has to be nurtured. Events like this are important: they help keep people social and active, which is great for wellbeing, but they are also an example of how we can build up a real sense of community, even in an age of social media and the internet. Plus, it's great to be outdoors and see what the neighbourhood has to offer.
A well-deserved treat
Culminating at Botanical Place's marketing suite, due to formally open in the New Year, the walkers were all treated to drinks and nibbles thanks to the fabulous Clava restaurant, which recently opened in West Byfleet.
In the words of Silver Friends' founder, Sandra Smook,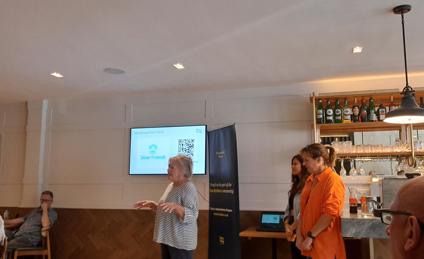 Thank you Retirement Villages for the wonderful Wellbeing Walk, which was very well organised so everyone could enjoy 'the walk and the talk'. It helped to raise the profile of Silver Friends and what we are doing to overcome isolation and loneliness within our community. Also, we are very grateful as it managed to raise £200 for our cause. This is most appreciated; Silver Friends' service is free to access, so every penny goes towards being able to make a difference.
Botanical Place, part of the Thrive Living collection, is set to open in 2024, not only will it provide much needed apartments for older people it will bring a hosts of services and facilities to the local area which will enhance it to. Bringing new places to shop with additional retail outlet on site, new places to dine locally, and a place to unwind with a fitness facility and wellness suite to enjoy, everyone will be able to enjoy what Botanical Place has to offer. 
Back to top