"Moving here has created peace of mind," says resident.
After working in HR for 14 years, living in a gorgeous flat overlooking the River Thames in Kingston Upon Thames for 35 years,  69-year-old Marilyn Jones decided to move to a retirement village. The reason was primarily with safety and security in mind.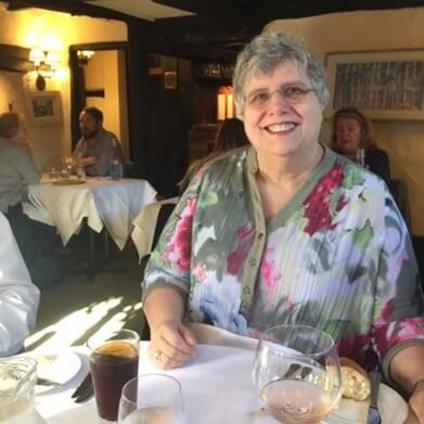 She explained: "As a single woman with no children, I needed to look ahead in case something happened to me. I wanted the reassurance of help if I needed it."
Marilyn's flat had three flights of stairs with no lift, which wasn't particularly favourable amongst her guests and eventually prompted her to look at Elmbridge Village in Cranleigh, Surrey. Initially, Marilyn was hesitant to make the visit, but after witnessing an evident sense of community, Marilyn was sold.
She explained: "When I walked in, everybody we met smiled and staff said 'morning'. Different organisations have different cultures and it was clear Elmbridge had an established community culture which I wanted to be a part of."
Now Marilyn has moved into her newly built two-bedroom apartment with an open plan kitchen lounge, great storage and a large window where she's fitted her own venetian slats, to add her own personal touch.
She explained: "It's more accessible than my last flat and it's great to be on the first floor with the restaurant just below. It's reassuring that there are people around if anything happens to you, and there will be people that will check on you too."
Marilyn has already invited her friends over to take a look at her new retirement property, she said:
"The friends who have come to visit me have likened Elmbridge to a holiday village. They were especially taken with the coffee bar area where residents tend to congregate to chat in the morning."
Knowing that it isn't always easy to make new friends when moving to a new area, Marilyn was pleased to find Elmbridge Village with its thriving community of like-minded retirees.
She said: "The people are so friendly here, everyone talks to you and I don't feel isolated at all. The residents are all very alert, it's like they're younger than they are. At least once a week, I go for Sunday lunch down in the restaurant with my new neighbours."
Marilyn is taking advantage of the social activities ran by the residents and has occasionally attended church services, scrabble, bingo, rummikub and is a regular member of one particular club. 
Marilyn said: "I've even joined the choir though I'm not a very good singer, but I'm told it can be better for you than walking!"
After five months of living in a retirement village, Marilyn advises: "Go as early as you can, don't leave it too late, especially if you're moving to a new area and get to know your local area so you know what's around you."
She added: "You should always make a point of talking to people, especially at the start. I try to show my face at the Coffee Bar from time to time – even though I'm allergic to coffee!"
Marilyn is really enjoying the lifestyle at Elmbridge Village and has even been asked to help with producing next year's calendar.
If you want to find out about what Elmbridge Village could offer you and the available retirement properties for sale, then click here.
Back to top