Retirement Villages Group Ltd (RVG) were delighted to hand over power tools, hockey goals and kitchen equipment to the Joyce Frankland Academy, near Saffron Walden, as part of a generous £2,500 donation.
The Academy wish list included drills, an exercise bike, treadmill, food processor, hand blender and even muffins tins – all of which were presented to the academy as part of Retirement Villages' ongoing links with the school and the wider local community.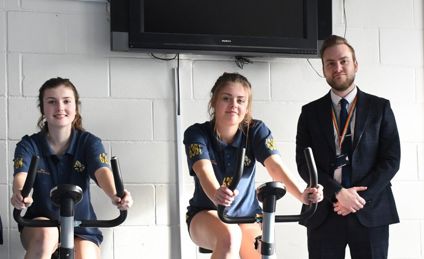 RVG are currently building Debden Grange retirement village in Newport, which will offer an exclusive range of 17 cottages and 64 one and two-bedroom apartments, due to be completed this spring.
Regional sales manager Chris Buck recently visited the Academy to meet with students and find out how the items would assist them in the classroom.
Chris said: "It was wonderful to visit the school and chat to the children, who were absolutely thrilled with the range of varied equipment we have donated to help enhance their hands-on learning experience.
"It is very important for us to engage with and build relationships with the local community, which includes schools.
"Our village is becoming part of the wider Newport community, and, as such, we will also be supporting the local economy where we can through job opportunities, using local suppliers, and engagement with businesses, schools, as well as social groups and clubs."
Joyce Frankland Academy Principal Duncan Roberts added: "We are enormously grateful for the donation of gym and design and technology equipment. These resources are a great addition and have allowed us to upgrade in key areas of the school, particularly important when all schools have been facing financial pressures. The equipment is already being well used and improving the provision we are able to offer our students. Building and sustaining links with local partners and businesses is something we feel is extremely important and we are delighted to have worked with the Retirement villages group in this way and look forward to developing this relationship in the future."
For more information about Debden Grange and the rewarding retirement lifestyle that will on offer, please click here.
Back to top