We are delighted to announce our partnership with Country Court, who will run the care facility at our new village, Debden Grange in Newport, near Saffron Walden.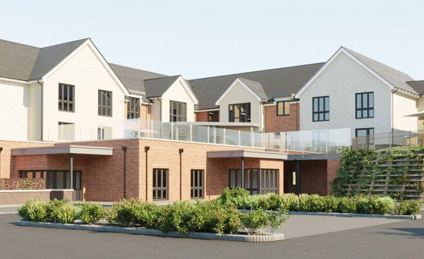 The village – which will open in March – offers independent living in 17 cottages and 64 one and two-bedroom apartments but there is also a 40-bed care home on site which will be operated by Peterborough-based Country Court.

The care home – which will be called The Grange – sits on the first and second floor of the main building and will specialise in residential and dementia care. This is the first time Country Court has operated as part of an independent living age-exclusive environment.
Facilities in the care home will include a quiet lounge with a cinema screen, lounge/dining room, hair salon and a pub.
Although the two facilities will be run independently, there will be some connections, and independent living residents can be reassured that care facilities will be on their doorstep, should they be required in the future.
"This is an exciting partnership for both Retirement Villages and Country Court and we believe that by working together in the same community there will be immense benefits for both independent and care home residents," said Oscar Russell, Group Estate Director for Retirement Villages Ltd.
"Country Court has an excellent reputation for the care it delivers across its many homes around the UK and has won national and regional awards for the quality of its services," added Oscar.
"We are delighted to be opening our newest home, The Grange, at Debden Grange" said Alykhan Kachra, Country Court Managing Director "We will be providing personalised care in a modern and comfortable setting, which is complemented nicely by the wider development of properties. We look forward to seeing both the care home and village grow."
As a new village Debden Grange will have state of the art facilities for residents. The clubhouse – Debden Lodge – has been designed as a modern and largely open space and will provide the focal point for village life comprising a restaurant, bar, reading area and a meeting room. Other facilities will include a shop, hairdressers and a village minibus for shopping trips and excursions.
Should additional help and support be required to maintain resident independence, local providers will be on hand to deliver domiciliary care.
For more information on Debden Grange, please click here.
Back to top