With global leaders convening for the United Nations' 26th Climate Change Conference (COP26) in Glasgow this month the topic of climate change is gaining increasing traction. The global population is waking up to the urgent climate change crisis, and as a result is looking at ways in which we, as individuals and communities, can start to live more sustainably.
As a substantially trending topic and movement, young people – Millennials (1981-1996) and Gen Z (1997 – early 2010's) – are often credited with championing the cause for sustainability and are dubbed 'Generation Green'.
However, concern about the future of the environment is not the preserve of the younger generations. Our recent survey confirms that sustainability is a prominent issue for the majority of over 70s in the UK, with 93% of respondents claiming they regularly recycle in an effort to be more sustainable.
In addition to this, a report published in 2020 claims that over 55s are already living more sustainably compared to the younger generations, and many aren't even aware they're doing so. For example, half of over 55s shop locally compared to only a quarter of 18-34yr olds, and 49% of over 55s prefer to buy fewer (but longer-lasting) clothes compared to only 24% of younger people.
It seems that the over 55s are better at 'everyday sustainability', whereas the younger generations have more ambition to focus on larger goals, such as buying an electric car, or moving into a more eco-friendly house.
Sustainable Goals
The COP26 conference has outlined a number of goals we need to aim for. These goals are primarily led by the overarching objective of keeping the Earth's temperature increase to within 1.5 degrees Celsius in order to avoid catastrophic ecological impacts. The current average temperature on Earth is roughly 1 degree Celsius higher than it was in the 1800s and it's not showing signs of slowing down, unless nations unite and pledge to collectively cut back on carbon emissions.
Carbon emissions are what's driving the climate crisis and despite a positive downturn in them during the coronavirus pandemic, scientists are warning that they're rapidly increasing back to record high levels.
It will take the collective power of the 196 nations attending the COP26 summit to steer us off this highly destructive course.
In addition to the goals being discussed at COP26, the United Nations set a series of Sustainable Development Goals back in 2015 – which the UK committed to.  These goals are intended as a collaborative attempt to end extreme poverty and reduce inequality, globally, as well as protect our planet by the target date of 2030. These goals are set for us to achieve collectively as a nation, however there are things that we can do at a corporate and individual level also to help the UK to achieve the goals.
Sustainable Development Goals Brought To Life
Seeing some ambitious global goals printed online doesn't always have the power to resonate with the individual, so it can help to have their impact brought to life to help us realise their importance.
Cambridge academics recently published an open-access eBook "Four Futures, One Choice" that provides four lenses for us to view (in clear detail) what four possible future landscapes of Britain may look like in 2040, dependent upon the decisions we all make today, and whether we meet the UN's Sustainable Development Goals. It's a fascinating, and sobering glimpse into the future of our society and environment.
You can read the book for free on the link below.
Read "Four Futures - One Choice"
We want to help in achieving these goals and protecting the welfare of our planet for generations to come. As a corporate initiative, in 2020 Retirement Villages Group made a number of commitments to achieving some ambitious corporate sustainability goals as part of our Sustainability Strategy that you can read more about here.
Taking Action
Following are some helpful hints and tips for how you, as an individual or as part of a community, can take action against climate change and live more sustainably day-to-day.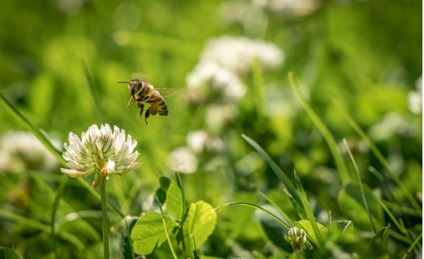 Go Wild – Leave part of your garden to grow wild, encouraging and supporting pollinating insects, such as bees, to thrive.
Veg Box –Rather than buying fruit and vegetables from a supermarket, buy them fresh from a local greengrocer, or in the absence of a local option you can order an organic veg box delivery, such as Abel & Cole, that help to reduce the amount of chemicals and pesticides used and deliver fresh produce direct to your door.
Plant Trees– Campaign for planting more trees within your local community to help promote green space and also reduce carbon emissions in the environment. Alternatively, you can use a service such as Ecosia to plant them for you as you search online.
Car-Pool –If you have to take the car out for supermarket trips, or days out, see if you can reduce the amount of cars on the road by car-pooling with neighbours and friends.
Save Energy –Save energy, and money, by remembering to switch off household applicances left in 'standby mode', or instead of boiling the kettle several times a day, boil it once and fill a Thermos flask to use throughout the day. Also, it saves a lot of energy to use a washing line to dry clothes as opposed to a tumble drier.
Less Meat ­­– Meat production is one of the biggest contributors to climate change. More people committing to eating vegetarian (or vegan) foods for one or two days a week could significantly reduce the negative impact the meat industry has on the environment. Companies such as Allplants are helping to make vegan food much more accessible (as well as delicious!) and deliver straight to your door.
Buy Ethically –where possible always try to buy products that are either Fairtrade or have ethical credentials which means they've committed to sustainable production practices. 
Clean Green –Using eco-friendly cleaning products, or even natural alternatives such as vinegar and bicarbonate of soda, for cleaning around the home can help to reduce the amount of harmful chemicals that are entering our water systems and having a highly negative impact on the environment.
For more information about how Retirement Villages Group is committing to being more sustainable, or for more general information about our communities and the options available for joining us, please feel free to contact us.
Back to top