Our new volunteering program has successfully completed its first projects, which are the Elmbridge Village Community Grant Adventure Playground and Sensory Garden
The Elmbridge Community Grant competition sparked a wave of inspiration among residents. They proposed community projects that could improve the village for everyone. Thanks to our volunteering program, two of the winning projects, The Brian France Playground and Janes Briggs' Sensory Garden, have now come to life. It's amazing to see what we can achieve when we work together towards a common goal.
Who got involved?
The two projects involved numerous individuals from various departments of the Retirement Villages Group. This included the local grounds and facilities team, enthusiastic resident volunteers from our Elmbridge community, and staff from other areas of the business who were keen to give back some time.
The village organised tea, coffee and cakes to keep everyone going throughout the busy morning of building and planting.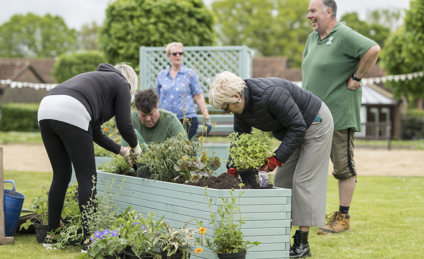 Let's get digging
Plants for the sensory garden were hand selected by Jane Briggs, Chair of the Resident's Association at Elmbridge Village, she worked with the local parish council youth group which had been looking to develop a similar project. Sensory planting can be beneficial for those with impaired vision or hearing, allowing them to experience the garden in a different way. Sited on a flat part of the village the garden will be an easy-access space for everyone to enjoy.
The garden design should help to promote rest and relaxation, whilst still creating an intimate area to get fresh air and enjoy the plants. Several Clematis were planted by the wooden seats to grow up the sides and for a beautiful arch in time, whilst wall flowers were chosen for their vivid colours and Sweet Williams and Scented Leaved Geraniums for other senses.
Jane comments,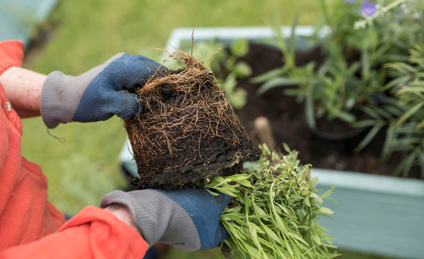 Last year RV launched a community grant project to offer ideas and suggestions. I came up with the sensory garden idea to encourage people to come further than just the clubhouse and their properties. I wanted people to be able to see and feel plants and in time, hear them when the grasses we plant grow up.
Construction gets underway
The grounds and facilities team had already started working on the adventure playground, which features a swing, slide, and den-making area, making the project too big to complete in a single day. But there was plenty of drilling, nailing, and lifting still to do and the staff volunteers really came into their own supporting the build.
The playground is suitable for 3 – 15-year-olds, and we hope grandchildren and even great-grandchildren will enjoy using it when they visit the village, so it will a truly multi-generational space in the community, filled with laughter and fun.
Hilary, a resident at Elmbridge and one of the volunteers on the day commented,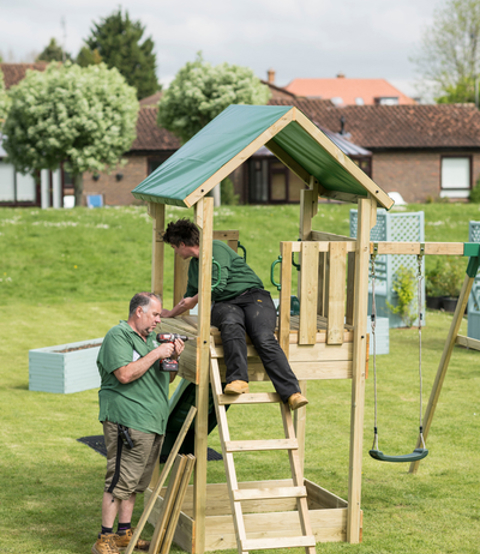 I'm so excited about it on behalf of my grandchildren. They often visit in the holidays and half term and we always have to take them out somewhere to find a park and run around, now we'll be able to do it in the community.
Reflections on the day
Volunteering is such a powerful way for people to get involved in their communities. It helps people to maintain purpose, promotes great mental health and even helps to build friendships and relationships for those taking part. The community grant projects at Elmbridge will have a lasting legacy for residents now and in the future, we're very proud that this project has been completed and is ready for everyone to use.
Shirley Hall, Head of Health and Wellbeing, who volunteered on the day and leads the volunteer program for RV commented,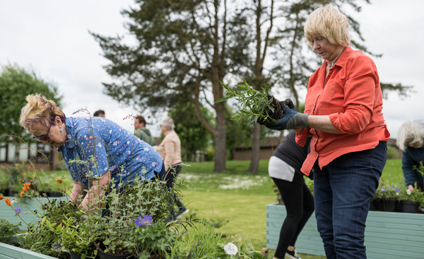 Volunteering will be so important for our residents, giving them a sense of purpose. They'll be able to use their skills and life experience. We know they are experts in many, many things and want to harness those skills and learn from them to improve the lifestyle and offering across all our communities.
Back to top