A move in retirement often means downsizing to a smaller property, and with that comes the dilemma of what you want – and/or are able – to take with you.
Hoarding is a growing problem for more and more people; and in the extreme can have a damaging effect on a person's lifestyle as a result of an accumulation of clutter, odd and ends and sometimes, general rubbish. 
Help to de-clutter can come in a variety of guises; from professional removers who empty overcrowded homes of junk and mess, to the more considered approach of 'does an item spark joy?' – the mantra of Japanese tidying consultant Marie Kondo, through her currently popular KonMarie Method. 
When it comes to moving to a smaller property, ask yourself of an item; Will it fit in my new home? Will I use it? Can I live without it? Could it have a new life elsewhere? Would I miss it if was gone? 
"For most people moving to a retirement village, the decision will result in a downsizing of property, says Sarah Burgess, Group Sales and Marketing Director. 
"Hand in hand with having lived in a property for a number of years come with it not only the volume of belongings, but the attachment to them. One of the most difficult aspects of moving, especially downsizing, is sorting through possessions and paring down what you own." 
Top tips to de-cluttering: 
If possible, start thinning out your possessions at least three months before you move. Do not underestimate the magnitude of this task.
Planning a move gives you an excuse to start the packing process by storing and labelling items you want to take with you and getting rid of those you don't need – as hard as it may be, try to be ruthless when it comes to decluttering.
Start off with a room at a time and work through the house, that way you will know which space has received your attention and you will be able to see the results as you go.
The garage can often be a place for hoarding or storing out of sight belongings that aren't part of everyday life; you may be surprised how much you can dispense with.
Give your home a real spring clean to make or at least give the illusion of more space if you are selling your existing home. In preparation for viewings, pack away any items that may make your home look crowded. Potential buyers will want to imagine themselves in the property with their belongings
Consider involving friends or family who make able to help you make decisions. And if you are really struggling to part with items, consider hiring an organisational expert. 
Don't move something you aren't SURE you want to keep; like that piece of furniture that certainly won't fit in your new home or those DIY tools you can do without at you new maintenance free retirement living property.
Think about the final goal – and the reasons you are de-cluttering to downsize or resize. 
Luxury living without the high-maintenance
Downsizing doesn't have to represent the end of an era, but instead think of it as the beginning of a new one. There are so many positive outcomes for such a move: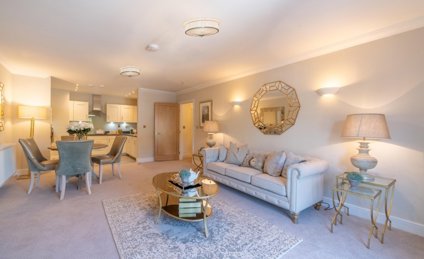 Less financial burdens (including utility bills) and possibly less spending 
Not so much housework 
Far fewer repairs and maintenance to do in the home  
Less decorating 
The property feels more manageable and therefore more secure 
Feeling content knowing there's no need for a future move 
A great cleansing exercise – a chance to clear out clutter 
A chance to invest in some new furniture! 
No need to spend so many hours gardening – but still having a wonderful outdoor space to enjoy. 
Increased opportunity to travel with the money saved.
Find out more about retirement living, including stories from our very own residents here. We also offer a moving service that can help you declutter in advance of your move. Browse all our retirement properties for sale and retirement properties to rent to find your next home.
Back to top