The Priory residents join the 'Queen's Green Canopy'
Residents at The Priory have joined the 'Queen's Green Canopy' initiative by planting a tree. The Arbutus, otherwise known as the Strawberry Tree, can be found at the very front of the main entrance to The Village for all to see and enjoy for years to come.
On The Queen's Ascension Day, Sunday 6th February 2022, residents enjoyed Sunday lunch together, followed by a few words from their resident deacon and shared in a chorus of God Save Our Queen before heading out to plant the tree.
The Queen's Green Canopy is a unique tree planting initiative created to mark Her Majesty's Platinum Jubilee in 2022 which invites people from across the United Kingdom to "Plant a Tree for the Jubilee". With a focus on planting sustainably, the Queens Green Canopy will encourage the planting of trees to create a legacy in honour of The Queen's leadership of the Nation, which will benefit future generations.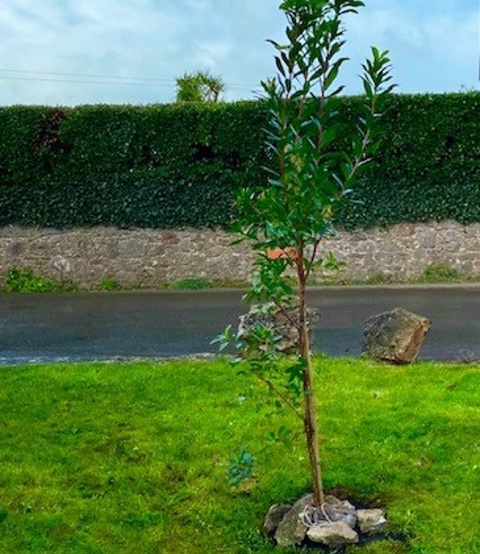 Resident Chairperson,Teresa Baverstock, said, "we chose this tree because it is evergreen and it flowers and fruits. We have a tradition here for planting tree and shrubs for commemorations. We have a Peace Rose for the commemoration of the ending of the first world war, a Silver Pear to mark the 25th anniversary of this village and a Cork Oak, planted to commemorate the Nunn's existence at The Priory. We also have a Crab Apple Tree planted on the day of Prince Phillips funeral we are saving a place next to for the Queen's memorial.
Jane Ward, Village Manager said, "we are always supportive of initiatives like this. This was important to our residents and planting of more trees fits with our sustainability plans, so we were of course happy to support. We also saw a letter from the Queen! Our local Parish who we regularly interact with received it and wanted to share the acknowledgement with us all here at The Priory. In the letter, her Majesty the Queen says, I hope the Jubilee will bring together families and friends, neighbours and communities – after some difficult times for so many of us – in order to enjoy the celebrations and to reflect on the positive developments in our day-to-day lives that have so happily coincided with my reign.  I thought this particularly poignant and indeed true of everything we want to achieve here at The Priory.  The day itself was lovely; this is a significant event for many of our residents, some of whom remember the day our Queen took over the throne, so it was lovely to join in in this way."
Back to top