The bees arrive at Charters Village
Charters Village has taken delivery of two new bee hives. The hope is next year the community will be able to produce its own honey.
The team at Charters Village has had the bees delivered from a local beekeeper in Paynes, which is just half an hour away from the village. The community has large areas dedicated to wildflower meadows within the grounds. So the bees should work as additional pollinators helping to make this area of the ground flourish further.
The two hives house about 6,000 bees currently and there is a queen in each one. They will be looked after by David in the village grounds team. David had been shadowing the beekeeper from Paynes, who supplied the bees, for some time and is confident the community will have its own honey next year.
David comments, "I have great interest in bees and believe their addition to the community will be very positive. Since their arrival, I've started to see them in the wildflower meadow pollinating flowers."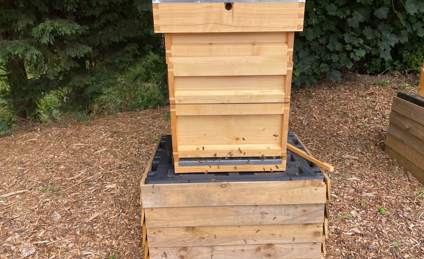 Back to top