Supper Club visits "spicy" Mexico
As the weather hots up at Avonpark this July, so has supper club with a visit to Mexico to tantalise residents' taste buds.
Julys' supper club left residents feeling the heat as chef served up a trio of dishes with an array of flavours from this popular holiday destination. The evening began with a classic dish of tostones, which are crisp flattened plantains, served with a variety of homemade dips including pineapple and mango salsa and guacamole. This was followed by BBQ pulled beef, purple potato, enfrijolada spicy rice served with a taco-style deep-fried tortilla wrap. For those that had space left after the sumptuous main course, there was a Mexican flan with caramel, strawberries, and chocolate sauce.
Mexican evening has been one of the most popular supper clubs to date, with all the residents dining together at a long table so they could enjoy each other's company during the meal. Annie, one of the community's newest residents, commented, "It's a lovely evening where everyone gets together across the village, and you never leave hungry!"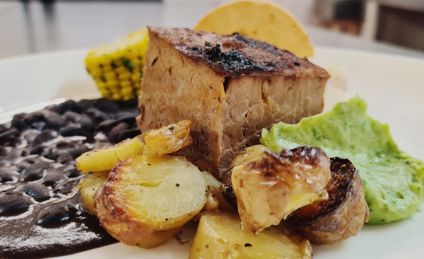 Back to top