Supper Club takes on an Italian theme
As Avonpark supper club continues to grow in popularity, it has taken on an Italian theme this month.
Residents were treated to a mouthwatering selection of Italian dishes as part of the supper club. The meal started with a soft homemade focaccia bread which was topped with grilled asparagus, sundried tomato, crispy Parma ham, and basil pesto. Once the starter had everyone's taste buds tingling, chef served handmade Sardinian fregola pasta with fresh seafood and a white wine sauce. The meal was topped off with saffron, orange, and ricotta cake served with mascarpone cream.
The recipes cooked by chef Roberto during the evening were all passed down through his family so he was able to bring an authentic taste of Italy to the residents. When possible the kitchen sources its ingredients locally.
James Grundy, village manager, commented, "Our monthly supper club continues to grow in popularity. Residents have even started to suggest themes for chef to consider. I can't wait to see what he shares with us next."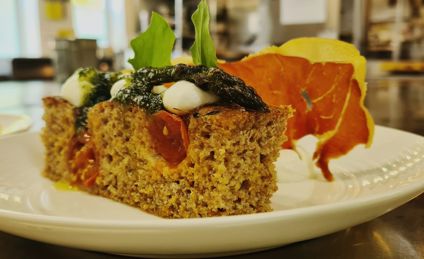 Back to top