Spring Supper Club at for Avonpark Residents
The residents at Avonpark met for their monthly supper club this week and were treated to a fantastic three-course meal in the evening sunshine curated specially for them by their sous chef Hayley and assisted by Roberto the community Head chef.
Supper Club happens at Avonpark once a month and provided a special dining experience for residents, some even invite guests and family to join them. This month residents were treated to a Spring menu including; beetroot cured salmon, quail egg, candied beetroot, and pickled cucumber salad, a small lemon sorbet for a pallet cleanser, followed by pan-fried duck breast, stuffed courgette flower, heirloom tomatoes, and lentils, with a final course of mango and passionfruit cheesecake. The meal was very well received by the residents.
James Grundy, Village Manager, commented, "Being able to provide a dining experience on par with a quality restaurant makes me very proud of the team. Our residents love to book into supper club as a special event each month."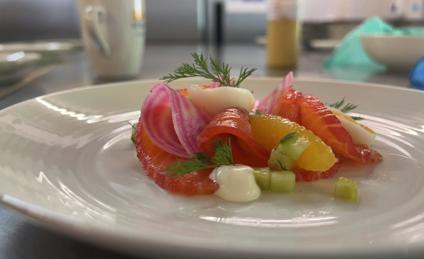 Back to top