Redevelopment team endorse the spirit of recycling
Three much-loved concrete planters, which were previously located at the site, have been granted a new lease of life at West Byfleet railway station. As part of the long-awaited redevelopment, we arranged for the planters to be given a new home and looked after by South Western Railway, rather than letting them go to waste. The move was made possible through great collaboration between the project team, SWR, and the West Byfleet community.
The re-homing of the planters is part of a much wider sustainability strategy to reduce waste as much as possible. The redevelopment itself will be the first whole-of-life net zero carbon scheme in the UK and will include sustainable measures such as solar panels and car charging points.
Terry Unitt, senior project manager, commented, "Recycling materials throughout the project is an important value for us. The move of the planters from our site to West Byfleet railway station, a focal point of the town, is a chance for us to action that value and to share what happens behind the hoardings with the wider community. We look forward to continuing this initiative throughout the project and seeing many more materials recycled."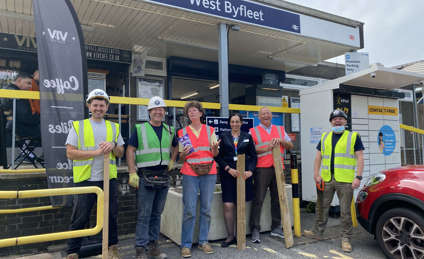 Back to top