Peter and Brenda find moving to Moat Park smooth sailing
Moving home is often cited as one of life's most stressful experiences, and all too often the emotional upheaval can put some off moving altogether. A recent survey by our Home Buying and Managed Sale partner Spring, revealed that even in a frantic property market, over a third of property sales can fall through, only adding more stress to an already stressful situation.
Wanting to avoid such potential pitfalls and remove any stress, when Peter and Brenda Emanuel found their dream property at Moat Park, they chose to sell their home to our partner Spring using their home-buying service.
Choosing Moat Park
The couple had lived in their Bishop Stortford home for over 26 years and when their daughter had her first child, they wanted to move to closer to her and their grandchildren. With geography playing an important role in their downsizing move, when they found the perfect cottage on Meadow View at Moat Park, they instantly fell for its charm and ideal location. Peter comments,
"Our house was a large, detached property and we had many happy years there, but we wanted to move somewhere that was a bit more manageable and also allow us to be closer to our daughter and our grandchildren"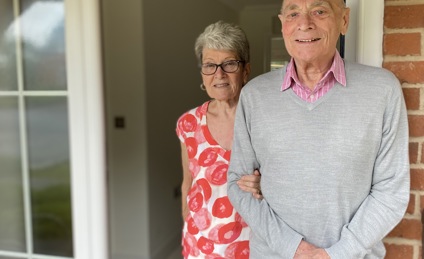 Smoothing the process
From the first inquiry to Spring, obtaining an indicative homebuying offer, to getting the keys for their new cottage, it took a total of 8 weeks. A timescale that perfectly suited Peter and Brenda. Peter commented,
"Sometimes when you see something like the beautiful cottage at Moat Park, you just want to get on with the move. Our own home wasn't on the market, so not wanting to miss out on the cottage we fell in love with, the team at Moat Park explained our options and how Spring's Home Buying service would be able to help us"
Without the usual hassle of selling a property there was no waiting around which allowed the process to move much more smoothly that when a property is in a chain, plus there's no risk of the sale falling through or the hassle of viewings.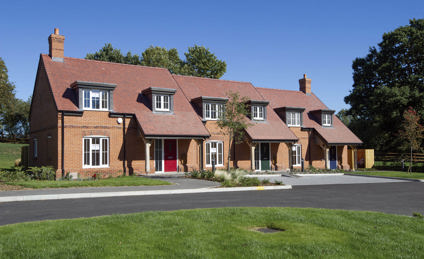 A new cottage for a new lifestyle
The couple are now settled into their new cottage and really enjoying all the facilities and activities on offer at the community. They can easily visit their granddaughter and have a family of foxes who come to say hello on the meadow each morning.  Peter comments,
"We are really happy and grateful to our daughter who did so much to help us with the move. Without her and the team at Spring, we wouldn't be here, and we especially enjoy Fish and Chip Fridays at Maynards Restaurant as our daughter can now pop in to join us too."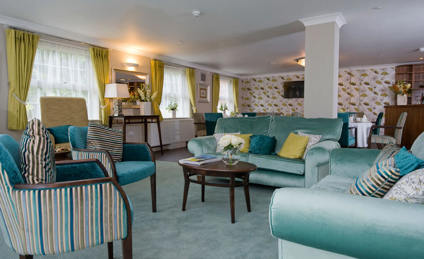 Back to top