Phil Chaney (70) and his wife Jan (73) decided to swap a pretty coastal village in Spain for a leafy village in Surrey and couldn't be happier with their decision to move back to the UK.

Phil is a retired Aviation Manager, a role he held for 18 years following a 29-year career in the RAF as an Aircrew Officer. Jan was a state registered nurse who began her career at Leeds Infirmary, holding both full time and then part time positions, until she retired at 60.
Phil's career meant the couple spent much of their working life living in a variety of locations in England and Europe. During his rewarding RAF career, for three months, Phil supported the two aircraft that dropped essential food supplies in Ethiopia for Band Aid! And whilst working at the HQ in High Wycombe, managing and flying on the VIP VC10 he provided long range air transport to: HM The Queen; HRHs Prince Charles and Princess Diana; as well as the PM (John Major); the Foreign Secretary (Geoffrey Hurd) and Secretary of State for Defence (Malcolm Rifkind).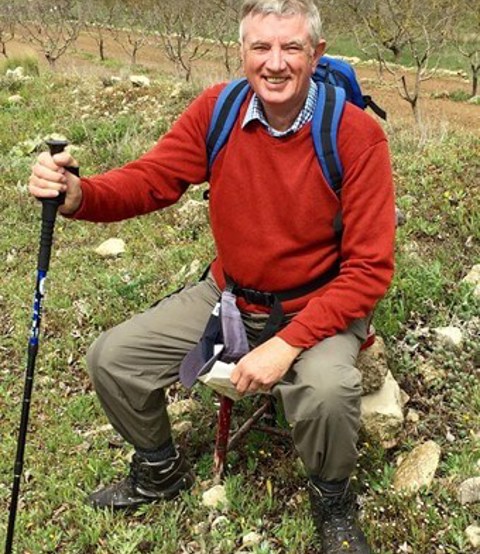 It was during his last posting in High Wycombe that Phil decided it was time to leave the RAF. New roles with Manx Airlines on the Isle of Man and then DHL Air UK, which was just launching at East Midlands Airport, saw a property purchase in Derby.
A move to Spain
Phil liked to keep a keen eye on property prices and his investments and could see that at this time, (2006) things might not be staying so buoyant, so he decided that now might be a good time to retire. Selling the house in Derby, they enjoyed an excellent exchange rate and took the decision to live their retirement dream by moving to Spain. The appeal of the fantastic weather and with friends already there, this seemed like the perfect choice.
Phil and Jan spent 11 and a half wonderful years in Moraira on the Costa Blanca in a three-bedroom villa with its own pool and 850 sq metres of grounds.
Re-evaluating retirement
Idyllic as this might seem, as the years have gone by, and after experiencing some difficult times losing close friends, they realised that Spain may not be everything they need for the years ahead."
The climate is fantastic, but the last few years had seen hotter and hotter summers and their ability to endure the heat had started to wane. Phil also had a small skin cancer scare and so had to avoid the direct sun – the positives were beginning to dissolve.
Phil said: "The garden was also becoming a bit of a problem. It was a large space and would grow half a metre a day if you didn't keep on top of it – we were finding it hard to keep up. We also had the pool which required daily maintenance and I was getting rather fed up of it.
"We also like to walk but felt we had exhausted the local area – whilst beautiful I really wanted somewhere new to go.
"Tourism was also becoming a bit of an issue. Our local Mayor decided to promote the town rather successfully and the season which lasted from June to August now stretches from April to the end of November so parking and going out for dinner in our local restaurants wasn't as pleasant as it used to be. We residents felt we'd lost our town to visitors and tourists.
"Taking a look at our list of reasons to stay in Spain, there were now quite a lot of crosses."
Phil said: "We did look to downsize in Spain for a while, but the costs involved to move within Spain are rather steep with the government taking a significant percentage as you sell and buy."
Discovering Elmbridge Village
It was actually an online headline in the Daily Mail that caught their attention in August 2018 which asked "Where you could buy a property in Surrey for £120,000?" The advert, visible on an article about Chris Evans, whose mother was living next door to Elmbridge Village, inspired them to find out more.
Phil was already familiar with the retirement village concept, after his parents moved to a village in Australia.  Following a diagnosis of lung cancer in his father, Phil's parents moved to enjoy a community setting where his mother would be settled, living independently with a central social hub and great circle of friends, which would provide comfort and reassurance for when his father passed away.  He really liked the idea and knew that it was something that he would like to do in the UK.
Phil said: "It's such a good idea, to provide reassurance for the future. You become settled and established in the village, making friends, so if something should happen to one of you, you know that the other will be ok and have support from the community."
Everything the couple need is on their doorstep and with the fantastic services that come as part and parcel of village life, they have plenty of free time to do the things they enjoy.
Gardening and external property maintenance are all taken care of, along with an hour of domestic cleaning per week and a convenient weekly linen laundry service.
Phil said: "The services provided are really good value, when you break down what you are paying for. It would have cost us about the same to employ people for pool cleaning and gardening services and other costs if we had stayed in Spain, so it really wasn't a difficult decision."
The couple purchased a two-bedroom apartment overlooking fields and they couldn't be happier.
Phil said: "We were keen to downsize to the two-bedrooms, which suit us perfectly. The village has a guest suite which we can use if we have more people to stay. Our friends from Belgium stayed for four nights before Christmas and it was nice for them to have their own space – which they enjoyed."
Phil and Jan did their homework before they opted for Elmbridge
"We did look at other retirement villages in our search, but didn't find anything we liked as much, or for such good value. Another flat in Dorking offered a similar size property but at double the cost. Elmbridge was a better fit for us," said Phil.
Rental options provided a perfect solution
"We started looking back in 2018 and ear-marked some of the properties under renovation at the village. There were two that we were interested in and following a visit in June, we selected one of the apartments, which we decided to rent whilst we sold our house in Spain," said Phil. "It was good to be flexible whilst we waited for the funds to come through from our property sale and by renting, we could see if we liked the village, location and the property," Phil explained.
Once the couple had moved in, they quickly came to the conclusion that everything on offer at Elmbridge was perfect – it had the 'village feel' they were looking for! Their rental 'test drive' was a complete success, so much so, that they decided to make an offer on the apartment within eight days.
Enjoying Financial Flexibility
A further benefit of the move to Elmbridge Village was the financial freedom that they now enjoy. Moving to a smaller property has allowed the couple to utilise the equity in their Spanish property and they are looking forward to many more holidays each year.
Plans this year include trips to Prague, Majorca, Antwerp, a river cruise in Budapest and two cruises – one from Montego Bay and the other around the Fjords of Norway!
All this travel, safe in the knowledge that their property is being looked after by their friends at Elmbridge Village.
Bringing family together
Phil and Jan have two children, a daughter who lives in Dorking and a son who lives in Nottingham. Initially they thought about moving mid-way between the two but decided that they would probably not see either very often with this approach.
Now just 35 minutes away from their daughter and 3 grandchildren, they are able to visit regularly and plan to make weekends away to Nottingham to see their son who has two children.
Phil said: "It was wonderful to see the whole family at Christmas, which will be easier now we are back in the UK. We hadn't had a family Christmas since 2010!"
Phil and Jan are looking forward to immersing themselves in village life. They have already been to several functions in the restaurant and are looking at external groups and activities too, including the local golf club and Cranleigh U3A.
Do your research
Following their move, and all that it entailed, Phil has the following advice for anyone looking at the move to a retirement village:
"Do your research and take advantage of the 'try before you buy' if you can. We came to the village several times and it was good to see a variety of properties and experience village life."
Back to top