Monday, Funday at Cedars Village
On Whitsun bank holiday Monday, the residents at our Cedars Village community got together for a fun and relaxing afternoon in the sun. They made the most of the beautiful grounds at the community enjoying a putting and croquet tournament on either side of a barbeque lunch that was enjoyed on the terrace and in the conservatory
Croquet is one of the most popular activities at Cedars Village particularly in the summer months. The putting green sits on the lawns directly behind the mansion house, with some properties enjoying views of it from their window.  Croquet tournaments are put on by the residents association.  For those that don't play but wish to watch there are several garden tables and chairs to sit, enjoy the action and most importantly cheer the players on whilst having a drink.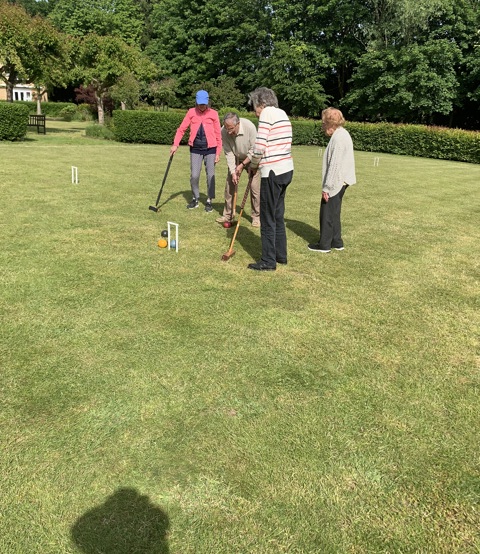 The Whitsun 2023 putting tournament was hard-fought over 18 holes. But this year's champion, who came out on top, was June Grose. June, a resident of the community for three years, played well and even got a hole-in-one at the fifth. It was a close match; she beat John Bowles 3&2, with both of them having won three rounds earlier. John moved into the community a year ago. John is a double amputee, and his personal mantra is;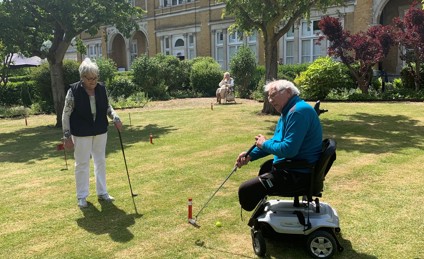 Don't worry about what you cannot do, just get on and do want you can
John has given many residents a whole new outlook on the idea of independent living, having overcome many challenges after his operations. He gets around in a number of different wheelchairs, which he calls his chariots.  He is involved in many activities and events in the community and focuses on enjoying every day, getting on with what he can get on with like the putting tournament in the community.
Back to top