Mindful Movement with Tai Chi
Thursdays at Gradwell Park now have an added verve thanks to our Tai Chi class. Tai Chi Chuan, (pronounced "tie chee chwan")  which originated in China approximately 3,000 years ago, is aimed at maintaining mobility and overall well-being. The class has fast become a top choice amongst residents since it fosters active living. However the benefits of Tia chi go beyond improved mobility to include the following:
improved cognitive function,
anxiety & depression symptoms relief,
improved strength,
significant blood pressure reduction,
pain relief
The class is run within the village as well as in the local community by local business owner Lisa Sang. This helps to encourage further interaction between Gradwell Park residents and the larger community.
Janet Stead, Wellbeing Coach at Gradwell Park, commented, "Tai chi is a beneficial exercise and the residents love it. We now run an additional free Tia Chi class on Wednesdays due to the demand. It's a great contribution to the health and wellbeing of residents at Gradwell Park."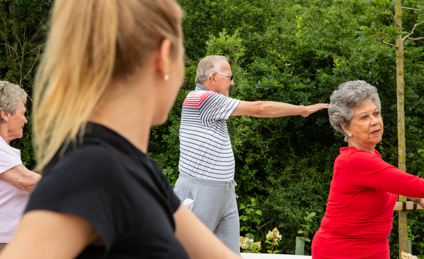 Back to top