Might Oaks from little acorns grow
The residents and team at Moat Park have taken the old English proverb, "Might Oaks from little acorns grow" and proved it to be true.
As part of National Tree Planting week this year, Tony who leads the gardening team has helped a number of Moat Park residents plant Oak trees on the grounds of the community. The fallen acorns were picked from the meadow two years ago and sown into pots. The saplings, which have been cared for by Tony and the team,  are now ready to plant and the residents have been assisting with this activity.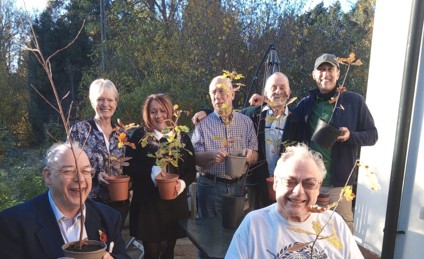 Tony and the gardening team have undertaken a huge rewilding project on the grounds at Moat Park as part of our wider sustainability strategy. This has included the erection of bat boxes and bug hotels, plus taking part in "no mow May" to encourage wildlife back into the grounds. The planting of these trees is the continuation of this strategy. Residents were delighted to be able to get involved in the rewilding project and choose the siting for the new Oak trees.
Lisa-Marie Jones, Village Manager, says,
I'm so proud of the team and the residents for this work. We have stunning grounds at Moat Park so anything we are able to do to improve them further is fantastic.
Back to top