Local art students erect botanical-themed mural
Local art students erect botanical-themed mural
Between exams and their final year exhibitions, art students at Woking College have been lending their creative talents towards the long-awaited redevelopment of Sheer House in West Byfleet.

Drawing inspiration from the village's rich local history in producing essential oils, the students have been working on a botanical-themed mural to add character and artistic flair to the site's hoardings.

Working with local Artist, Nathalie Beauvillain Scott, the design includes creative references such as lavender fields to pay homage to the village's history in aromatic botanicals, what we would now call essential oils.

The students spent the last days of their final term painstakingly painting each of the 20 boards, ready to be affixed side-by-side to the site's hoardings along Station Approach, where they are now being enjoyed by the local community and passers-by.
Carmen Noble, one of the art students who helped make the initiative a success, commented,  "Being a part of such a unique and fun project has been great. With the end of the year coming up and with our class having not seen each other as much as we would have liked to this year, it's been really fun to work on something together."
Nathalie Beauvillain Scott, commented, "While it was a challenge having to complete it all in just a week, it's been an amazing result! It was also a joy working with such talented students who were very inspiring."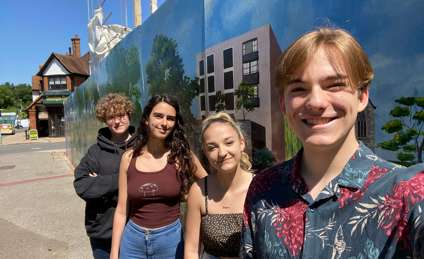 Back to top