Jean Burnett, originally from Yorkshire, bought one of the new build properties at Charters Village and moved in soon after it opened in 2014. Jean likes the safety and security of having a permanent base in such a close community, especially as she travels a lot to stay active and make the most of later life.
"I'm always coming and going," explained Jean. "I visit family and friends, go shopping in Tunbridge Wells and take extended holidays abroad whenever I can. For example I have been away with my daughter to Mauritius for two weeks to soak up some sun, it was lovely!"
Jean continued: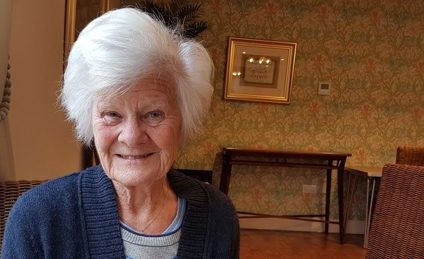 "I relish the freedom that living in a retirement village affords me, as well as the peace of mind that when I do go away Charters' staff watch over my property and keep it safe."
Travelling comes very naturally to Jean, a former electricity board employee who spent years living in countries as far-flung and exotic as South Africa, Rhodesia and Turkey after marrying her late husband Peter in 1956.
Peter worked for consumer goods company Unilever, which deployed him all over the world for long periods. Jean, his wife, naturally accompanied him.
"Travelling with Peter and experiencing different foreign cultures was wonderful," Jean reflects. "One of the longest stretches we did was 12 years living in Durban, South Africa. The lifestyle there was fantastic, as was the climate!"
Over this time the Burnette's had four children, three girls and one boy, and eventually decided to move back to the UK to give them a settled upbringing. They decided on Teddington, a town in the London Borough of Richmond upon Thames.
After Jean and Peter's children grew up they downsized to a cottage in Danehill, East Sussex, where they lived peacefully for more than 40 years. Eventually Peter sadly passed away, leaving Jean on her own.
Jean visited the then newly-built Charters Village and loved the properties, a few of which were still available at the time. The community's existing residents, not to mention its staff, were very friendly and warmly welcomed Jean when she decided to make her home there.
"Making the move to Charters was a big life change for me after my husband passed and I am still adjusting mentally even after several years here,"commented Jean. "However, I am healing over time and this retirement village is a wonderful, comfortable place to live.
I have the security I need, but also the freedom to come and go as I please. I also love my apartment, which is spacious, light and airy. It has a beautiful meadow behind it, which adds to the scenery."
Jean is involving herself in Charters' active social scene and attends many activities and events held within the community. These include carpet boules, film nights, craft groups such as lacemaking and knitting and shopping trips.
In addition, Jean appreciates the hotel-style living assistance provided by Charters as part of its standard package, such as the laundry, property maintenance and cleaning services.
She said: "The living assistance services make my life a little easier and give me more time to focus on what I want to do and where I want go. The staff at Charters are excellent too, always helpful and willing to go the extra mile for us residents."
Back to top