Janet Stead talks about Mental Health Training
Janet Stead, Wellbeing Coach at Gradwell Park has recently completed a First Aider Mental Health Training course and tells us all about why this is such an important part of her role.
"Having completed the First Aider Mental Health Training course, I would firstly, recommend it to anyone who has an interest. 
It is wonderful to see that the subject of mental health is now being openly discussed and it's empowering for those living with a mental illness, which we may experience at some point in our lives. 
Life has a habit of throwing curve balls when we least expect them, creating an emotional roller coaster that we must navigate, and sometimes it feels like we are out of control. Steering a safe path is not always the easiest and we all recognise a self-sabotaging route.  Some reach out for that bottle of wine as if it can help us solve the problem or visit friends who we know won't be supportive, but we go anyway. Smoking, sitting in front of the TV, watching endless films we don't usually watch just because they are on, for some, this will sound familiar.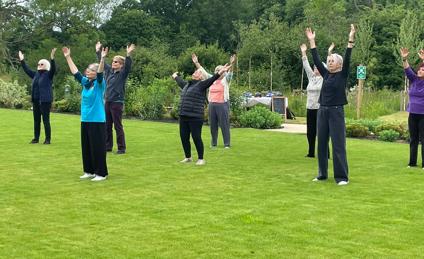 We are all vulnerable at points in our lives as we transition through the minefield of physical and emotional change. We all experience significant life events such as loss, relationship breakdowns, financial hardship, unemployment, Covid lockdowns all of which can lead to increased stressors that act just like a champagne fountain, the more we pour in, the more it overflows and can be challenging to bounce back.
One of the most common mental health disorders is depression and anxiety, affecting millions of people globally and this number has tripled during the pandemic.
The in-depth course I have recently attended has given me, the First Aider, confidence in using the tools provided, to spot early warning signs and signpost individuals to the correct services that can help them. That can be their GP or if they are living with a long-term mental health illness, they will often know the coping strategy to use, have a support network, and possibly a recovery plan. The most important thing is to LISTEN, do not judge nor offer your opinion because your frame of reference will be completely different from theirs. 
Sadly, there is still stigma attached to mental health illness, with much of this relying on old-fashioned thinking and outdated assumptions. As with many things in life, the more information we are armed with, the less likely we are to allow myths to colour our opinions. 
The wellbeing of the residents here at Gradwell Park is my focus – I am here to look out for them, to lend an ear, to help if needed, and to ensure we offer a range of opportunities for our residents to look after themselves, and to thrive! From Tai Chi to walking our beautiful grounds, attending one of our many clubs or enjoying home-cooked food with friends,  activities like these all contribute to an individual's health and wellbeing  It is like one big family at Gradwell Park, we are here to look out for one and another – and when help is needed,  I am here to listen.
Back to top