"A home for then, now and the future" says Elmbridge Village resident.
A former maths and science teacher, Margaret Franklin lived with her husband, a hotel manager in Croydon for many happy years. The pair raised a daughter together and enjoyed a fulfilling lifestyle in the hustle and bustle of London. Once the pair retired, they decided to follow their daughter's footsteps and move to the leafy Surrey countryside, to the village of Cranleigh.
"Both me and my husband loved living in Cranleigh, it's such a idyllic and picturesque location but it has all of the essential amenities you might need. It was great to be close to our daughter too"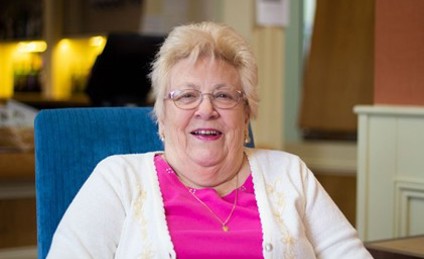 Unfortunately Margaret's husband passed away a few years after they moved to Cranleigh and whilst Margaret spent the following few years in their property, she later decided she would like to downsize to a more manageable property, with less maintenance.
"When I became a widow, I was presented with many of the uncertainties that living alone presents – maintaining the property and feeling safe and secure during the evenings. But of course I had strong emotional ties to the property and very fond memories from mine and my husband's time there and that did put me off moving for a while."
A few years passed and Margaret began to think more often about moving to a more manageable property. Margaret knew of Elmbridge Village and made arrangements to come and meet the village team, eager to view some of the properties and hear more about the facilities and services available.
"I really thought the services included in the service charge were excellent value for money and I loved the idea of having to spend less time doing house work and more time doing the things I enjoy – playing bridge, sewing and knitting!"
Margaret was sold and made the move to the village in December 2011.
"The addition of Elmbridge Manor has been fantastic for the village, the facilities are really superb and my friends enjoy joining me for lunch in the restaurant from time to time."
An active member of the village and the local community in Cranleigh, and now recently elected as chairman of the residents association for the village, Margaret is busier than ever!
"My role as the chairman for the residents association means I listen to the voices of all of the residents and ensure any issues or concerns are raised with the village manager, Keith. I'm really proud to have been elected and I think it's wonderful the association exists, so as residents have an active say in how the village is managed and in its future."
Somehow Margaret has also found the time to regularly attend exercise classes in Elmbridge village and Cranleigh Bridge club in Cranleigh on a weekly basis.
"I have found the perfect balance of village life here at Elmbridge, I have a great social life both inside and outside of the village. There are so many interesting people living here, all with different backgrounds and expertise, so there's always someone to turn to. I really have made some excellent friends and I'm incredibly proud to call Elmbridge Village my home."
Back to top