Our Moat Park retirement community has marked a double celebration for new resident Doreen Wright – a long-awaited move to her new home and a milestone birthday!
Having sold and moved away from her home of 60 years in Ilford, great-grandmother Doreen is now settling into her two-bedroom apartment.
Staff at Moat Park, including village manager Lisa-Marie Jones, have gone the extra mile to make the move as hassle-free as possible for Doreen.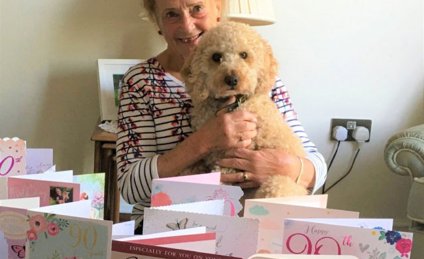 She said: "The time had come for me to make a fresh start and the opportunity to move to Moat Park sort of fell into my lap! The parents of a friend of my daughter's already lived here, we came to look at the apartment on the open day and fell in love with it."
Doreen put in an offer on the apartment and sold her home, and things were progressing smoothly – until lockdown came along. After the lifting of restrictions, Doreen's buyer pulled out and she had to re-sell the house.
"Thankfully, I found a new buyer quite quickly and was able to move earlier this month. Everyone has been so welcoming and have gone above and beyond to make me feel welcome; even when the fire alarm went off unexpectedly on my first night and the fire service arrived at my door!"
Doreen has recently celebrated her 90th birthday, and the Moat Park team helped to mark the occasion by delivering flowers and a signed card.
The move means that she now lives much closer to her family, which includes four grandchildren, two great-grandchildren, and another due in February.
And while theatre-lover Doreen has been forced to put her trips to London with friends on hold, she is making the most of meeting new neighbours at Moat Park.
She has already attended Covid-safe coffee mornings and is enjoying chatting to other residents whilst on walks around the grounds.
"I am really hoping to become part of this community, and the move was the right thing for me to do at the right time – I would recommend it to anyone."
Back to top