Dine around the world arrives in Turkey
The residents at Mayford Grange were treated to the culinary delights of a traditional Turkish dinner at the weekend.
The Mayford Grange team have been running a series of world dining events for residents in the community. This month the chef whipped up a Turkish feast using tradition flavours and spices. Guests could choose between a chicken shish kebab or lamb kofats with garlic yoghurt, both served with homemade flatbreads. The dessert was a traditional sticky-sweet baklava dish. In Turkey this dish is made with pistachios and sugar rather than honey and walnuts which is the method in Greece. Dating back to the Ottoman Empire, baklava is one of the most iconic Turkish dishes and a must for anyone with a sweet tooth.
Neil Barlow, Village Manager, commented, "The evening was a great success with lots of residents turning out. With many residents not able to take foreign holidays last year we thought we should try and bring a little bit of the holiday spirit into the village."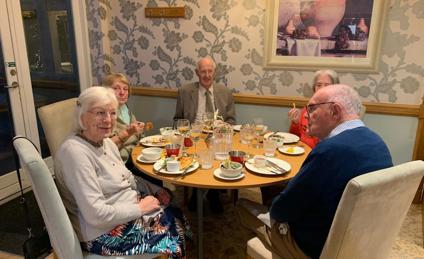 Back to top