Collaboration with Wokingham Borough Library Service provides books for residents straight to Thamesfield
A recent program with Wokingham Borough Library Service is enabling residents to enjoy reading novels in the comfort of their own properties. Joanne and Clare, from Wokingham Borough have started visiting Thamesfield every three weeks, offering books and companionship to residents who enjoy reading.
The service has received a great take up and is enjoyed by many of the communities residents. They can choose specific books, if they have something in mind, otherwise the librarians can pick for them. Popular genres include romantic novels and true crime, as well as thrillers and autobiographies. The team spend time with each resident discussing the novels and what they might like to try next. The program provides enrichment to each resident. On occasion residents have picked the same novel and then got together to have a group discussion about it afterwards.
Joanne, Wokingham Borough Library Service,  comments, "The Read Well Scheme is an important part of our reading for health program, specifically aimed at older people enabling them to maintain a healthy and active mind in their later years."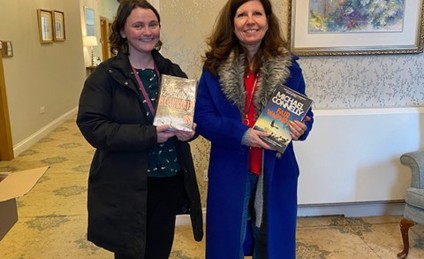 Back to top