Christmas Craft Fayre for Elmbridge Residents
Residents at Elmbridge have been treated to a Christmas Craft Fayre in the community's main hall. It was a great opportunity to shop locally and get together with friends.
The event, which is organised by the residents, brought together local craft stalls and small businesses all under one roof. There were local honey and beeswax items, clothes, bags, handmade jewellery, beautiful toiletries, and Christmas crafts, to name a few stalls. The event was extremely popular with residents, and a steady stream made their way into the hall all morning.
The community hosts two craft fayres a year. The Christmas fayre is particularly popular, as the stall are all gift-focused so many residents were able to make a start on their Christmas shopping. As the event is held in the main hall many residents then went on to coffee morning, the clubhouse was a hive of activity all day!
Kelvin Glen, Village Manager, comments,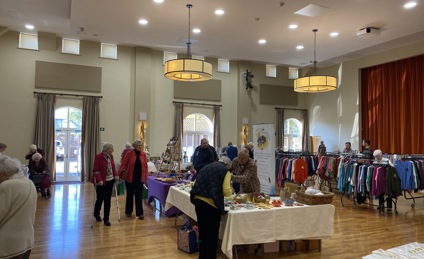 This is a fantastic resident event. Organised for residents, by residents. Seeing everyone come together as a community and enjoying themselves is what Elmbridge is all about.
Back to top