Butterfly Meadow Walk at Elmbridge Village
The meadow at Elmbridge Village, at the far end of the community, is starting to look beautiful as flowers begin to bloom and a number of butterflies have been spotted on the meadow.
The meadow is a very popular spot in the village. Many residents use the area to stretch their legs and get back to nature. It's also a super place for dog walking within the community, many residents meet there for a natter and to throw balls for their dogs. The paths winding through the meadow are about a mile in length, so a great place to get your steps in for the day. They is a number of benches dotted around the area as well.
A number of signs have been placed around the meadow, to help residents identify butterflies. Residents have spotted Painted Ladies and Brown Meadow butterflies which are common to meadow land in the UK. The area is incredibly peaceful and bird song can be heard all day long.
Kelvin Glen, Village Manager, commented, "Whatever time of day I head down to the meadow, I see residents enjoying the grounds. It's a brilliant part of the community and an area which is very well used."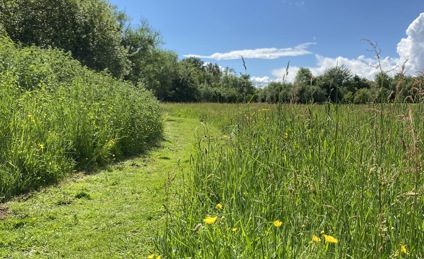 Back to top