The team at Cedars hosted a fantastic and very popular Burns Night in the community for all the residents this week.
The evening began with guests gathering in the foyer of the clubhouse with a Kir Royale to start the celebrations. Guests were encouraged to dress in tartan if possible and many turned out in a traditional dress with kilts, knee socks, and a few bow ties.
The piper, who was a highlight of the evening, then led a procession of guests into the Ballroom for dinner. A traditional Selkirk Grace was read by members of the team, followed by a toast to the haggis before the meal began.
The restaurant served a sumptuous traditional Burns Night Dinner ensuring that no one was left hungry! The first course was a cock-a-leekie soup, with the main course traditional haggis with neeps and tatties, and a Whisky chaser. The main meal was followed by a tipsy laird trifle and a cheeseboard with Bannocks. Once the meal had been enjoyed residents shared traditional poetry and sang Auld Land Syne while toasting Robbie Burns and the piper played them out at the night. It was an evening filled with laughter, music, and tradition for the whole community to enjoy. As one of the largest and most established communities Cedars Village always throws a great party and everyone likes to get involved, and share stories with one another.
Rob Pyatt, General Manager, commented,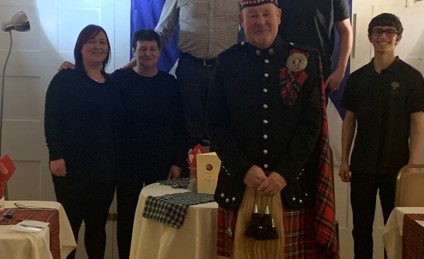 This event was very well attended, and seeing the spirit of the community come to life over the evening goes to show why community living in retirement is such a great option for those social seekers that love to get involved and enjoy events together. We have lots more events throughout the year and I hope they'll be enjoyed by as many residents as our Burns Night was.
Back to top