Bringing wildflowers back to Roseland Parc
Wildlife is such a big part of the natural environment and at Roseland Park, the grounds team, led by Bob Mehen, has been working to increase wildlife and biodiversity across the community.
The project started back in 2019. Bob set aside a large area of poor-quality lawn that wasn't getting much use and decided to dedicate time and effort to create a mini wildflower meadow in the area. The first job was to draw the area back to almost bare soil and then seed it with a native wildflower mix. Bob chose a mixture of annual, biennial, and perennial species
The first year was a riot of colour with field poppies, cornflowers, corn marigolds & corn-cockle amongst others making a striking scene that the local insect life loved. A key plant species was a yellow rattle, a semi-parasitic plant that draws some of its nutrients from the roots of nearby grasses, suppressing their growth and allowing wildflowers to burgeon as a result. The residents were delighted this wasted piece of ground was awash with colour and insects.
Now in its third summer, the meadow has developed into a more subtle affair that still contains the showy annual species but is now complemented by a host of longer-lived plants. Bob has counted in excess of 20 different flowering species as well as dozens of grasses and insect life is increasingly varied as a result.
Bob Mehen, Head Gardener, comments, "All in all the meadow continues to be a success in terms of the increase in biodiversity it has achieved and also in removing a large area of lawn from our mowing schedule. The meadow needs cutting just once a year in September now, which has a significant impact on the carbon footprint of the garden."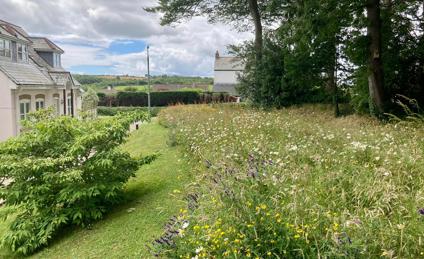 Back to top