Allotment produce for the kitchen is beginning to come through
The green-fingered residents of Thamesfield, along with the hospitality team, have had their hard work rewarded with their first produce for the kitchen.
The allotments, installed earlier this year, at Thamesfield consist of a number of raised beds for the residents to tend. They were installed as part of Thamesfield's wider sustainability strategy with the aim of reducing food miles and helping to reduce the village's overall carbon footprint.  
A large number of residents have been involved in the planting and nurturing of the garden. There are now pears, carrots, and tomatoes ready to pick. With beetroot, green beans, and lettuces almost ready too.
Residents held a sustainability meeting in July and came up with a number of suggestions to improve the allotment further. These included installing a greenhouse to help bring plants on over the winter months, and creating a composting area to encourage better use of waste.
Our Village Manager, commented, "Our residents have really enjoyed the allotment this year. It's provided a great opportunity to get outside and take up a new hobby for some of them, or restart something they loved before for others."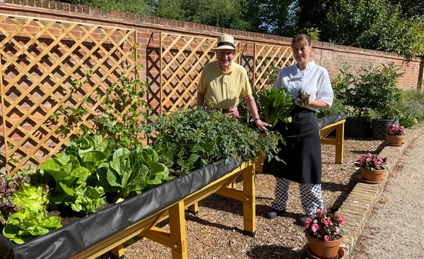 Back to top