A string quartet and a patriot rendition of Land of Hope & Glory for St. George & Shakespeare
With its historic Grade II listed mansion house as the venue, a St George's Day celebration combined with Shakespeare's birthday was bound to be full of elegance and grandeur in the Cedars Village community.
More than 40 residents turned out for the weekend's events to celebrate St George's Day and Shakespeare's birthday. They were treated to an English-themed menu with choices of whitebait and tartare sauce or minted pea soup, traditional roast beef or homemade fish pie, and a final course of warm bread and butter pudding. All prepared by the community's excellent in-house chef.
Elizabethan entertainment was laid on during the day. The Meadow Steep Players who form part of, the locally renowned, Chorleywood Orchestra added a touch of elegance and played for the residents. In between courses, the residents took the opportunity to read passages and poems from their favorite Shakespearian writings.
The day culminated in a gloriously patriot way as the residents stood to accompany the quartet in a rendition of Land of Hope and Glory and I vow to thee my country.
Colin Foulger, Village Manager, commented, "I enjoy seeing the residents coming together for themed events, such as this one. There is such an inclusive vibe in the village, it's great to see everyone taking part and enjoying themselves."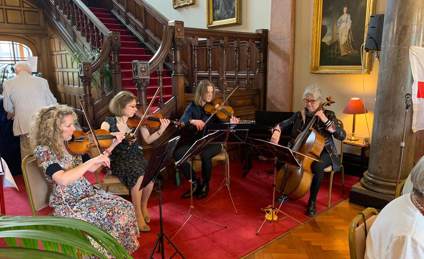 Back to top