A display of community spirit
This December saw West Byfleet gearing up for the festive season with its annual Christmas display. Community groups and local businesses got into the festive spirit, tasked with displaying their take on Christmas Traditions at St John the Baptist Churchs' annual Community Christmas Festival. The church is a close neighbour of Botanical Place, our flagship brand-new community.
More than 30 individual entries meant the church was brimming with festive cheer as well as beautiful displays of 'traditions' from stockings and nativity scenes, to Christmas stories, poems, and lots of tinsel, ribbons and sparkle. Our entry brought the array of community efforts from 2022 into one place, through a community photobook. The photos were submitted by local people as part of a photography competition launched in November, to create a 2023 West Byfleet calendar. The book now stands proud at the library at The Old Sorting Office on Rosemount Avenue available for public viewing.   All entries are included in the photobook, and the best 12, as chosen by the competitive online vote have been selected for the 2023 calendar. These calendars will be distributed across West Byfleet in the new year.
Our  entry was pipped to the winning spot by the tight-knit team 'Wit Knits', whose Santa's Grotto scene earnt winning spots in both the public and judges vote. Joining Wit Knits in the limelight were the 5th West Byfleet Brownies, St Mary's Church and local group New Horizons,  who scooped up the remaining prizes across the public and judges votes.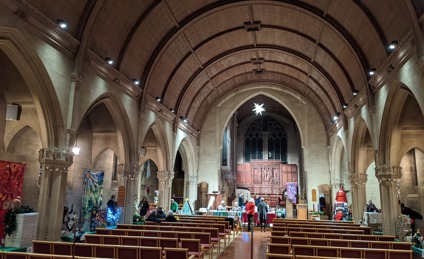 It was delightful to have been invited to join in this annual Christmas tradition in West Byfleet and we hope to before involved in more community events as the building of Botanical Place continues into 2023.
Back to top