For Gavin and Margaret Martin, both 78, moving to Cranleigh-based Elmbridge Village was a decision borne out of many years of careful consideration.
"What to do and where to go when you retire is one of life's most important choices."said Gavin. "If you get it wrong then it can be a very expensive mistake to rectify, not to mention stressful and laborious. So when our time came we wanted to examine all our options thoroughly."
The Martins previously lived in a bungalow in Cranleigh, which they designed themselves, but as they grew older it became tricky to maintain and the garden was larger than they needed.
Gavin and Margaret decided they wanted to live in a close community that offered hotel-style living and a range of high quality facilities. However, they also wanted practical care services close at hand in case they had a need for them in the future.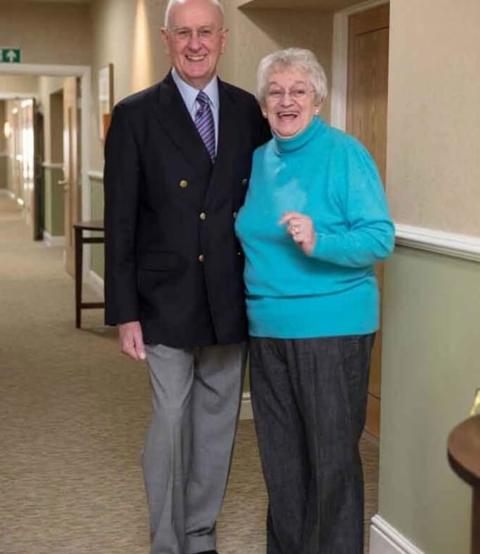 After evaluating all the available options the Martins realised that a retirement village checked all the boxes. They already knew people who lived at Elmbridge and had lived together in Cranleigh happily for the best part of 50 years, so the location suited them.
However, the ever-practical Gavin and Margaret visited a number of retirement villages to make enquiries and talk to existing residents about life in these communities. In the end though it was Elmbridge's new development, Elmbridge Manor, which drew Gavin and Margaret back to Cranleigh. They wanted to stay in the village anyway.
"Elmbridge Manor excited us greatly, especially when Retirement Villages' sales team revealed it would incorporate a concert hall, restaurant, shop and library," explained Gavin. "When we saw CGI images of what some of the facilities would look like it sealed the deal."
Gavin continued: "It is funny how after all the effort we went to we ended up back in Cranleigh, but we wanted to be comprehensive with our searches to ensure we made the right choice."
"The village has everything we want and now we are moved in we are very happy. Elmbridge Manor has exceeded our expectations in every respect."
Because Elmbridge Village is in Cranleigh this made the move easy for the Martins. However, it is convenient for another reason.
Gavin was a technical consultant in the gas industry for 35 years, but when he decided to "retire" nearly two decades ago he wanted to stay active. So he took a part time job at his local Homebase DIY store. Now almost 79, Gavin still works there!
He said: "I am on the shop floor at Homebase. My job is to advise customers on their decorating needs and recommend products. It keeps me mentally and physically alert in later life and I really enjoy it. For those who are able, I think taking on a part time job is highly beneficial."
Now they are moved in, Gavin and Margaret plan on taking advantage of Elmbridge's thriving social scene. Margaret is looking forward to joining the book club, while Gavin is trying to make up his mind which groups to get involved in.
The Martins both say that they are also looking forward to joining Elmbridge's luncheon club and listening to the regular speakers, as well as being able to pop downstairs for Sunday lunch in the village restaurant.
Finally Gavin concluded:
"We love our new apartment, it is spacious and airy. Elmbridge Manor and all of its facilities are perfect for entertaining family and the staff are fantastic."
Back to top