There are many misconceptions about retirement villages, one of them being you actually have to be retired to live in one. But some of Elmbridge Village's newest residents are certainly challenging this stereotype.
Full-time workers and residents
Both aged 64, Jane and Gordon Briggs work a 50-hour week in their respective fields and live in a two-bedroom apartment at Elmbridge.
Jane explained: "We both work full-time, and we love it. I have my own business which I've been working at for 20 years, Oakwood Business Consultants, and Gordon works as an electrical engineer in Saltaire Yorkshire.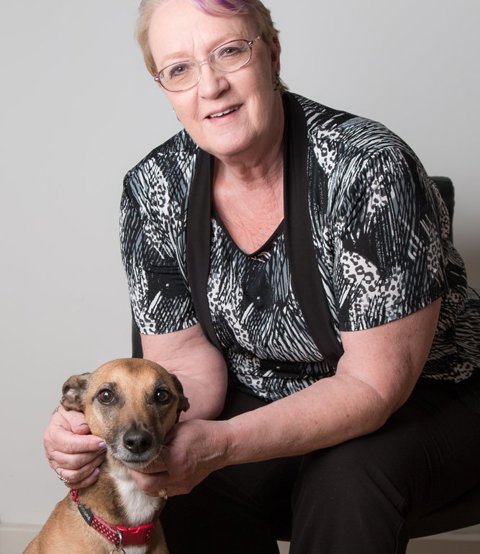 "The vast majority of people find it quite incredulous. We love going to work and to return home to Elmbridge makes it even better."
Jane intends to work for another six to seven years. Gordon plans to retire at the end of this year as the travelling means he's away from Elmbridge during the week and consequently misses out on the social life in the village!
Jane said: "The hour's cleaning and once a week laundry and bed linen washing that Retirement Villages Group provide us with is a massive help. It makes our full-time working doable."
There is also an onsite laundry room for washing and drying. Jane can be found in there occasionally catching up with her reading whilst waiting for the washing to dry!
Security and reassurance
Living just half a mile from their previous two-bedroom property in Cranleigh, the Briggs enjoy staying close-by to their family and everything the wider location has to offer.
Jane said: "We love it here in Cranleigh, it's a very pretty and full village and there are lots of independent shops that are worth visiting too."
She added: "The retirement village itself is secure. We wanted to move here as we intend on buying a motorhome, so we can travel around as we please, whilst knowing that our property is safe amongst staff and neighbours."
The Briggs also feel reassured by the 24/7 emergency response service which is available and managed by onsite staff.
Jane explained: "It gives you a secure feeling knowing that if you got stuck you can just press a button in your property and help will come. Doctors also call into the village twice a week and repeat prescriptions can be delivered to your door!"
An easy choice
The Briggs have settled in perfectly and were instantly impressed at first sight.
Jane said: "The gardens are an absolute delight, spacious, colourful, variable, private as well as open and worthy of a Britain in Bloom prize as far as I'm concerned.
"We love it here. The bar is open on a Friday evening, the restaurant is very good, and the staff are wonderful. The Residents Association is brilliant too, there are over 20 activities going on in a week. This includes boules and croquet outside and there is even a craft room where the more adventurous can experiment with 3D printing! It really is like being on holiday all year round!"
Jane added: "We really can't think of anything that comes anywhere near matching Elmbridge village, the other villages we visited were squashed and the spaces were tiny. Elmbridge is so nice and spacious; you don't feel on top of anyone at all.
"It's just completely us, we have decent sized bedrooms, fitted wardrobes, there is just so much space to make use of – and of course the price was right! The village is very green too, there are plenty of recycling points. We feel very lucky."
Jane added: "Elmbridge Manor- the clubhouse is a wonderful building.  It houses the restaurant and the residents lounge with the bar. There is a shop open for a couple of hours each weekday with essential items to purchase. And there's a guest suite, where visitors can stay overnight.
"There's also the health centre, the library and computer centre, meeting rooms and the jewel in the crown has to be the village 'hall'. This is a big room with a stage, lights, great dancing floor and projector where they show films occasionally, concerts and the shows are staged there too. And this is all for the benefit of the residents."
Dog-approved!
Another misconception of retirement villages is that they're not pet-friendly. But at Elmbridge Village, we appreciate that your animals are part of the furniture and encourage you to bring them with you!
Jane explained: "Our dog, Chester, is 15 years-old, we couldn't have moved without him. We actually think he might be enjoying the retirement village more than we are! We take him on three walks a day – he loves the long grass and the woodland area; he often comes with me to the allotment too.
"The allotments are another fantastic element to the village. As well as dog-walking, it helps us to be more active and means we can meet fellow allotmenteers and dog owners too. "
Jane explained that her friends and family have been equally impressed with the village: "My son is 22 and he has a dog who also enjoys walks around the village. I've joked that in another 27 years our son will be joining us here!"
Tech savvy
It's not just the Briggs and their dog living at the apartment, the modern couple have also taken in virtual assistant Alexa!
Jane said: "My husband is very into automated technology and I think it's great too. We use Alexa to turn on the lights, put the heating and water on, answer the telephone, switch on the television and we think she will be answering the door soon too!"
All in all, the Briggs are enjoying life at Elmbridge Village. Jane explained: "Overall, the village is quiet; secure; it has attractive gardens and brilliant views; there are great walking spots; you have the choice to take part in activities and the general set up and community atmosphere is fantastic!"
Back to top