Apartment living is the perfect situation for Ann Romaine who feels right at home at Moat Park.
Ann and her late husband Brian lived in The Rodings, Essex, in a large five-bedroom house with a huge garden for more than 20 years. After Brian passed away Ann started to feel lonely and quite vulnerable in the house on her own. Her daughters noticed a change in Ann and decided that it would be better for Ann if she moved to somewhere that she would feel more safe and secure.
One of Ann's daughters is local to the village and had a friend that had already bought an apartment here, so they decided to come and have a look around to see if it would be somewhere Ann would like to live.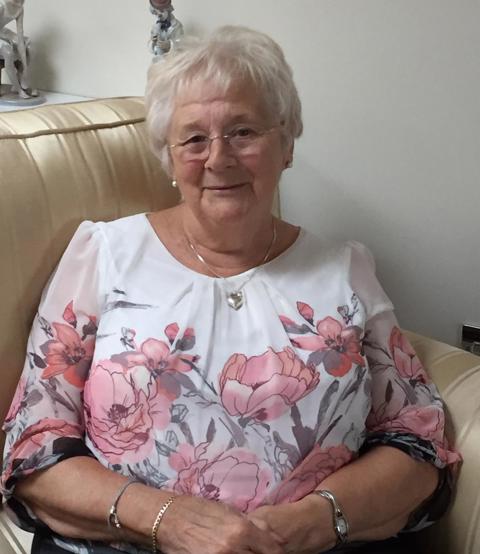 Looking at other retirement developments in and around the Bishops Stortford area Ann and her family found them rather characterless with 'cookie cutter' apartments that all looked exactly the same, and small gardens or none at all. Here at Moat Park Ann values the individuality of the apartments where she has been able to stamp her own style on her two-bedroom property and has the enjoyment of six acres of beautifully landscaped grounds.
"I love my apartment. Each one is slightly different so when you visit your neighbours you feel like you're in their home rather than your own. I do miss my garden but the beauty here is that I get to appreciate the lovely grounds and the stunning lake, without actually having to do any work!" said Ann.
Feeling safe and secure
As someone that likes the company of others, Ann has certainly found a setting that means she will have people around to spend time with when she wants company.
Ann explained: "I know that I did the right thing in moving here. I feel so safe and secure and I'm certainly not lonely. I love the fact that there are people around all the time. It's nice to know that if I want to talk to someone I can just visit my neighbours."
"Loneliness was the biggest issue for me. I really don't like being on my own. Since I've moved to the village I've made some fantastic friends. We now go on holidays abroad together which is wonderful. If I lived on my own I wouldn't have gone on any of my trips away. We've been to Tenerife, cruises on the Rhine, Serbia, and Biarritz and there will be more!"
Reassurance for family
For the first 18 months Ann's daughters would ring her every day, twice a day just to check that she was okay. Now they know that she is happy and enjoying life to the full, so only feel the need to phone twice a week.
"My daughters have been very impressed with the village and the lovely community here. They are happy that I am contented and enjoying life. I really do have a lovely life here."
The move to the village also means that Ann can see more of her grandchildren, regularly collecting them from school and taking them home.
"My grandchildren love it here, they all refer to Moat Park as Nanny's hotel!
A new lease of life
Ann is really enjoying the social side of village life; she and her friends host regular dinner parties with everyone bringing something to the evening for everyone to share.
She also takes advantage of the village restaurant and bar.
"We have a fantastic chef here who cooks delicious meals. I really enjoy the Sunday lunches because it's typically a family day, so rather than being on my own, I can join friends in the restaurant and have a lovely Sunday roast."
Downsizing is hard but worth it
Although Ann loves her new apartment she did find downsizing hard.
"You spend your whole life working hard and accumulating things, only to have to get rid of them all later on! But I don't regret it, this was the best decision for me and everyone soon made me feel at home," said Ann.
"Having people around to help is a really healthy way to live. My husband used to do all the handiwork, our paperwork and even filled my car up with petrol and now I have to do everything myself. It's good to have people around to help me when I need it."
From her own experience Ann advises that you should make the move whilst you're active and able to take advantage of all the facilities and the vibrant community life within a retirement village.
"Don't leave it too late, just get on and do it whilst you can still get out and about and really enjoy yourself," said Ann.
Back to top