Life is in full bloom in our gardens
SHARE
The garden is an extension of our homes. It's a labour of love. A place we spend time imagining and planning, planting, and pruning. Watching it grow and bloom year after year. 
The garden is home to all kinds of rituals and memories. Morning coffee with the papers in the sun. Birthday parties. Games with the children (and then the grandchildren). Endless lazy afternoons with G'n'T, lost in a good book. It's no wonder it's one of the hardest places to leave when thinking about starting a new life somewhere new.
What would you say if we told you there was a host of new gardens to explore? Gardens waiting for you to help care for them, shape them, and enjoy them. At Retirement Villages, our beautiful gardens are one of the things that make us so unique. From the award-winning Japanese Garden at Castle Village to the Palm Garden of Roseland Parc with its 250-year-old Magnolia trees, there's a garden with something for everyone.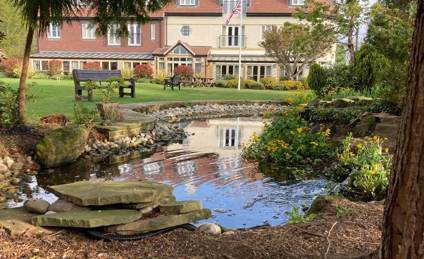 Green fingers welcome
We pride ourselves on the green spaces in our communities. With gardening clubs and allotments, residents are invited to tend to the vast collection of plant life, have their say on its next direction or simply take a back seat and watch the gardens bloom and change throughout the seasons. Growing fruits, vegetables, and herbs is something we encourage all our residents to get involved with if they want to. Not only does it support our sustainable ethos, but there's nothing better than tasting the fruits of your own labour. Our residents find that working together to build and care for the gardens is hugely rewarding and a wonderful way to connect with others, sharing passions, tips, and tricks of like-minded green-fingered folk. And it's never too late to start gardening. If you're new to the pleasures it brings, your fellow residents will lead you through a beginner's guide on how to start your own allotment and how to grow an array of products as well as the basics of gardening, with all tools provided.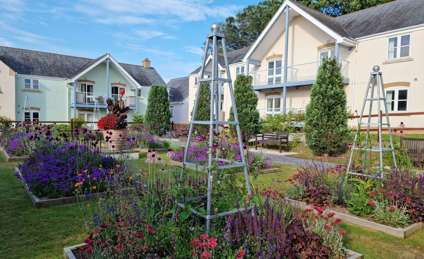 Time out
We understand that whilst a peaceful and gratifying place, the garden can also be a burden at times. The constant upkeep and relentless graft can be off-putting. The responsibility for all aspects of the garden's upkeep sits with our staff. They will ensure all the hard work and seasonal tasks are taken care of, so there's no worrying that things will go to pot should you wish to take a break.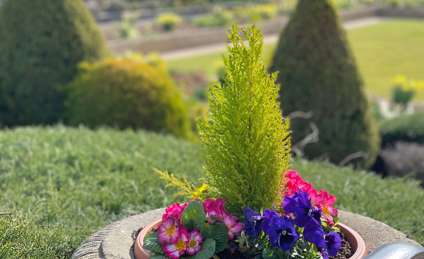 Green space is good space
Someone once said, 'gardening adds years to your life and life to your years.' At Retirement Villages, we couldn't agree more.
All keen gardeners will know that growing things with your own hands is good for the soul, but did you know it's scientifically proven to help reduce stress, lower anxiety and boost your wellbeing? And they're not the only benefits of gardening in retirement. A boost in confidence comes hand in hand with the sense of achievement gained from knowing you made something grow or created something beautiful. The health benefits of gardening are plentiful, especially in later life.
Our village locations may have their own grounds and gardens to enjoy, but many are set in scenic countryside, near woodlands and walking trails, and even close National Trust properties all for residents to visit whenever they please. Gradwell Park is nestled at the foot of the South Downs, with rolling greenery as far as the eye can see. Castle Village has the Chilterns on its doorstep, brimming with stunning walks waiting to be enjoyed. Roseland Parc in the Roseland Penninsula sits near the Lost Gardens of Heligan and the Eden Project.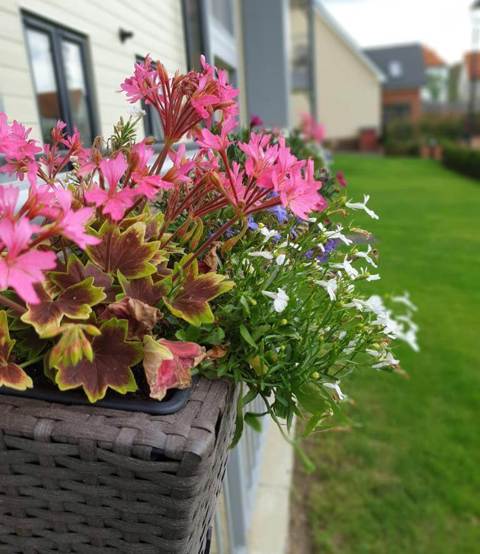 Would you like to know more?
If you're curious about Retirement Village life, why not come and see it for yourself at one of our open days, hosted all year round. It's the perfect opportunity to explore the Villages for yourself and find out how we can make your next chapter one of your best. Have a chat with some of the incredible people who have already made the move and find out why they wished they'd joined us sooner. Our beautiful villages and all they have to offer are waiting to be discovered.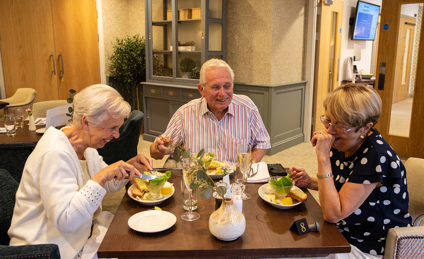 Back to top