Our community volunteer programme
SHARE
With more freedom and time, retirement is an incredible opportunity to give back. One way retirees can enjoy this is through volunteering. It brings immense benefits to individuals and society as a whole. In fact, research has shown that volunteering by over 65s contributes a staggering £48 billion to the economy - that's 2% of UK GDP! Not only that, but it's been found to help retirees combat loneliness and promote their own physical and mental wellbeing.
That's why we're excited to launch our new volunteer programme, designed to enhance life within our communities and create a stronger sense of togetherness. This new initiative will see residents and staff volunteering on projects across all our UK communities, offering purpose and fulfilment.
The value of volunteering
At Retirement Villages, we understand the importance of maintaining purpose and a sense of belonging in all phases of life, not just retirement. Volunteering offers a wonderful opportunity for our residents and staff to actively engage with their communities, create meaningful connections, contribute to their wellbeing and the wellbeing of others.
Our programme is designed to empower both residents and staff members to make a positive difference through volunteer projects across all our communities.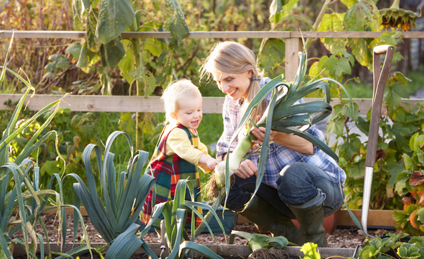 More about the programme
Our volunteer programme will become a cornerstone of our commitment to support residents in leading fulfilling lives and embracing retirement.
From participating in resident representative groups, supporting the community reception or shop, befriending isolated residents, or organising activities, events, and classes, everyone has countless opportunities to contribute their time, energy, and expertise.
Head of Care and Wellbeing, Shirley Hall, comments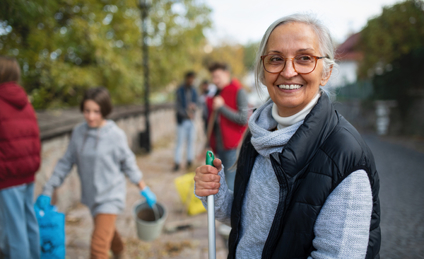 Volunteering is incredibly valuable to those in later life, as it not only empowers them to make a meaningful difference in their communities but also provides a sense of purpose and fulfilment that is truly priceless. Through this initiative, residents and staff members can enjoy a diverse range of volunteer activities, so that they can find the right one to suit their interests and skills.
Elmbridge paves the way
We've already made a great start at Elmbridge Village. The recent Elmbridge Community Grant project saw residents submit sustainable community projects, and the three shortlisted ideas were announced joint winners! We're well underway executing these innovative projects, too.
The sensory garden, the idea of Jane Briggs, will become a staple part of the Elmbridge grounds. Residents came together to plant this self-sustaining garden that will support those with sensory impairments. Volunteer staff have also supported the gardening and maintenance team in building the Brian France Playground, the second of the three projects.
These initiatives, driven by residents for residents, create an amazing atmosphere within our communities. Residents feel connected to each other, fulfilled by a rewarding project and get to enjoy the benefits of working together out in nature.
The launch of our volunteer programme is part of our wider health and wellbeing strategy. Informed by our wellbeing report. We're building on our supportive communities to create more choice and opportunity, and align with how our residents perceive wellbeing.
Head of Care and Wellbeing, Shirley Hall, comments,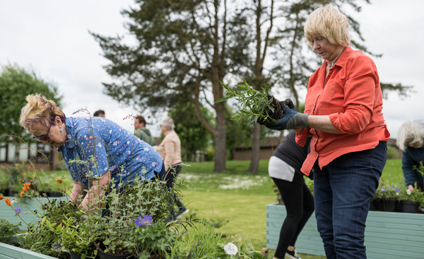 We strive to empower residents to lead fulfilling lives by providing the right care and support so they can maintain independence and wellbeing. Our strategy revolves around promoting enabling environments, stress-free living, resilience and a sense of purpose.
We're always working on new ways to deliver the services our residents want, and our volunteer program is just the start. If you're a resident, speak to your Village Manager about how you can get involved. If you're simply curious about our communities and want to know more, get in touch - we'd love to hear from you. Or join us at an open day.
Back to top